01. INTRODUCTION
Traditional bridle leather covering expressive horn taken from the antlers of a water buffalo. The immaculate ambience born from a compact, easy-to-use size and the charm of leather that evolves with extended use elevates this item into an essential for any gentleman. Glenroyal shoehorns combine a minimal form with convenience. Here we delve into the appeal and true worth of this item that is often chosen as a gift.
02. DETAIL
A harmony of the warmth of natural materials and reliable functional beauty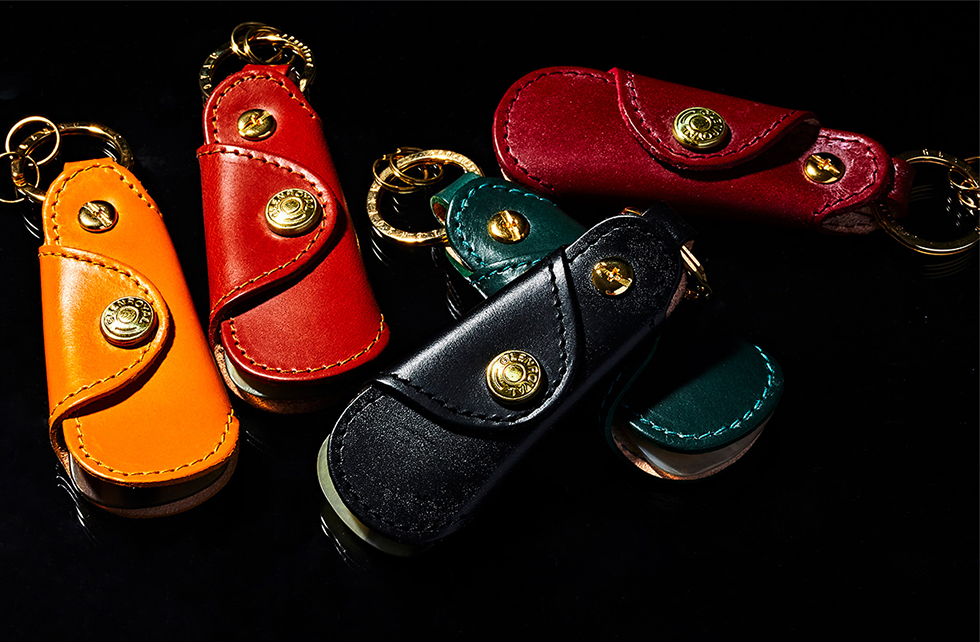 A shoehorn is an effective item for not only taking care of one's footwear, but also in the conduct of smart and sophisticated people. Using one deftly at wherever I happen to be out at presents the behaviour of an adult with effortless class. Another attractive feature of Glenroyal shoehorns is their compact size that makes it possible to carry them around with ease. The combination of traditional bridle leather and a golden snap covering the horn creates an elegant finish with both extravagance and depth. These wonderful items also allow one to enjoy the look of the leather changing day by day. Furthermore, the use of water buffalo horn gives rise to a one-of-a-kind air of quality and warmth.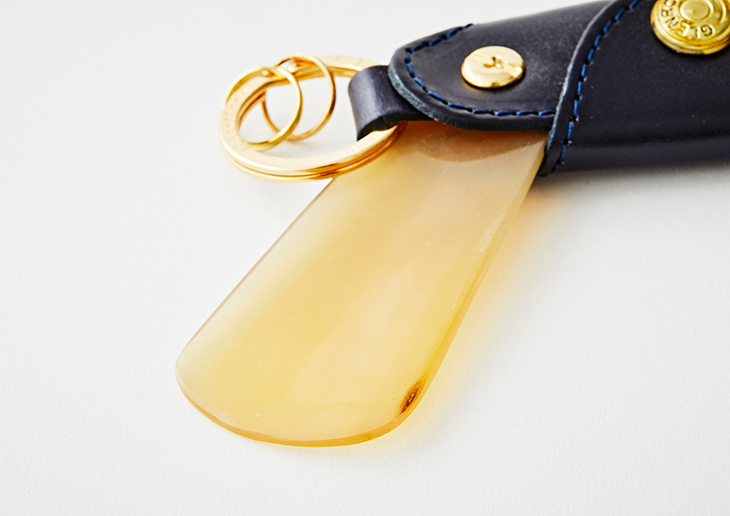 Water buffalo horn is especially durable even among natural materials. Each horn is different, and this coupled with the fact that the horn is pared by hand means that no two of these shoehorns looks the same. The smooth shape also makes them feel pleasant to use.
The sparkle of the button snap and the rounded cut of the leather keeps the shoehorn from appearing too rough. It fits naturally with modern styles and bags, making it an ideal gift for both men and women. Stitching of the same colour as the leather provides a balance that is at once not overly casual yet still works in formal settings.

The golden ring engraved with the name of the brand and allows the shoehorn to be attached to the belt loop of one's trousers. Having two keyrings in addition to this only enhances its usefulness. These gold fittings are key points in both its versatility as a product and presenting a posh appearance.
03. HISTORY
An authentic shoehorn passed down over time
What we in Japan call the "kutsu bera" is referred to in English as a "shoehorn", and this term is gradually becoming popularized here as well. Upon inspection, the history of the shoehorn is surprisingly long, as it is said to have originated in Britain nearly 260 years ago. In Japan on the other hand, it slowly came into use with the arrival of Western footwear. The term "shoehorn" was translated into Japanese as "a horn for shoes", and as such shoehorns were originally made from the antlers of cattle for quite some time. Cow horn is highly durable, and becomes smooth and attractive once treated. Glenroyal shoehorns made from water buffalo are no different, with a comfortable feel, lightness, and sturdy finish that makes them well-suited for daily use. They are wonderful explorations in functionality that also give off a sense of history. Meanwhile, using a shoehorn is a widespread custom in the West when it comes to taking care of leather footwear. A shoehorn protects the heel and the rest of one's beloved shoe from damage, and what's more there are even occasions where it is deemed poor manners not to use one. A quality shoehorn is an item anyone looking to add to their image as a sophisticated adult will want to keep on hand.


Supervisor: Manabu Nariha
Profile
Appointed head of the Osaka branch of INFAS Publications, producers of Ryuko Tsushin and WWD-Japan, after stints as an editor and writer for Soen and The Textile Journal. Now lectures at educational institutions and is involved in many other projects such as planning and production for international exhibitions.
04. USER RECOMMENDATION
"It's classy, compact, and fits into my daily routine stress-free"
(Man in his 40s)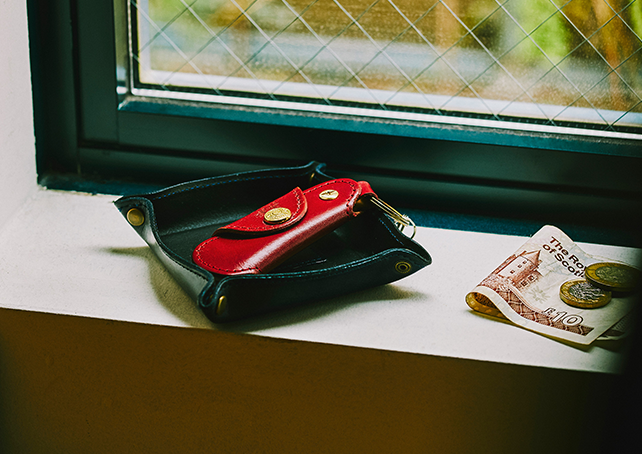 "When I first bought my shoehorn I thought I would be using it mainly when traveling, but was surprised at how well it fit into everyday use once I actually tried it out. Your standard long shoehorn is handy when used while standing, but is in fact a bit cumbersome when donning shoes while sitting. Another thing is that this shoehorn is made of water buffalo horn, which gives it a touch of luxury and makes it extremely lightweight. Plastic shoehorns look cheap, while ones made of brass or stainless steel are heavy and make noise when you set them down. All of that really bothers me… Another great thing about this Glenroyal shoehorn is that the cover is bridle leather, so it's fun to see it change over time. I look at it every day as if it were a part of myself."
"The horn is tougher than I imagined, while the keyrings make it very practical"
(Man in his 30s)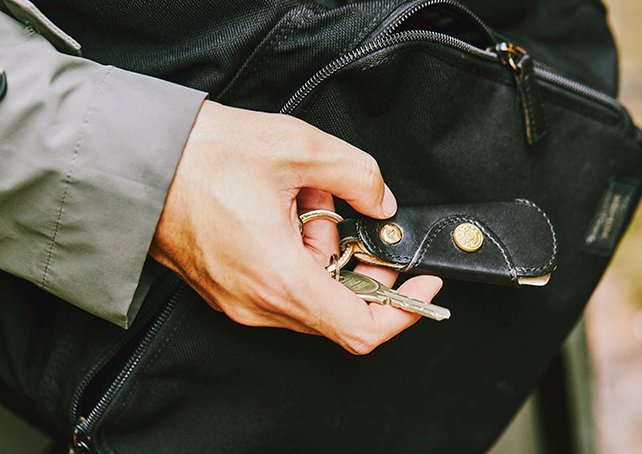 "The truth is, before this I was using a shoehorn made by another brand. It was made of brass covered in leather, but the brass began to warp after repeated use. That's when I switched over to this Glenroyal shoehorn. I was happen to learn that there was no risk of it warping since it's made of water buffalo horn. I'm reminded on a daily basis of how durable it is, as well as how its compact form keeps it from ever being a burden. The fact that it also has keyrings is truly convenient. I keep my house keys on it and use it all the time. This shoehorn is an item that meshes really well with my lifestyle. And then there is the way it has changed over the years. I chose dark blue (navy), but I like how the colour of the part I hold in my hand has deepened (turned black). I think the little marks on the keyring give it character, too. I touch it frequently when locking the door, so this makes seeing it evolve as time goes on even more enjoyable."
05. Q&A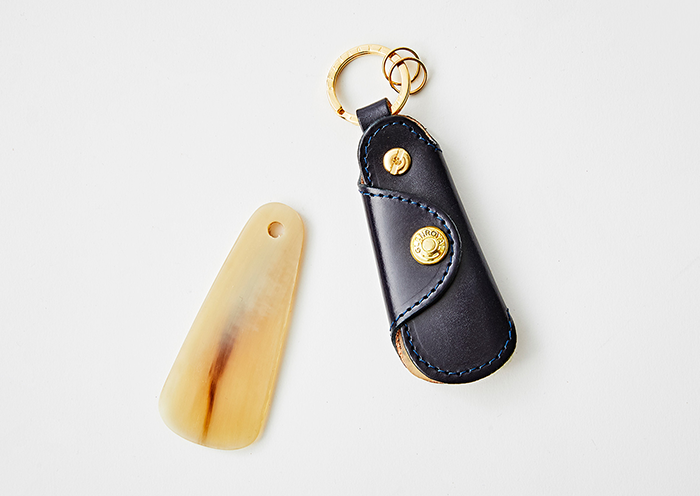 Q. The shoehorn seems short.
Wouldn't this make it difficult to use?

A. A shoehorn becomes difficult to remove smoothly if it is inserted too deeply. The function of a shoehorn is to provide a guide that makes it easier for the heel to slide into the shoe. Please take confidence in knowing that even this length is enough to perform this task easily.
Q. How do I use the shoehorn
to put my shoes on smoothly?

A. Hold only the leather portion without applying pressure to the point where the horn and leather connect in order to avoid breakage. The shoehorn can be inserted and removed smoothly and securely by placing your index finger on the back of the horn while gripping the leather. This will also prevent you from inserting the horn too deeply.
Q. Can my shoehorn
be repaired if it breaks?

A. Such repairs will involve replacing the horn itself. Horns are natural, one-of-a-kind items, so please note that the colour of a replacement horn will be different. If you would like your shoehorn repaired, please send your name, address, phone number (a number where you can be reached easily during the day), e-mail address, and the details of your repair to the following address. Please make sure to enter your e-mail address. (In general all contact will be conducted via e-mail)
Delivery address for repair items
Watanabe & Co., Ltd.
Attn: Repair Dept.
5-14-1 Minami-Aoyama, Minato-ku, Tokyo, Japan 107-0062
repair☆watanabe-int.co.jp (Please replace the ☆ with an @ mark)