01. INTRODUCTION
A belt must be durable, but also capable of holding its own as a fashion accessory. Here we present the harness bridle belt, an almighty item that has proven popular across the board for its versatility and usefulness. Join us as we delve beyond its apparent practical features to explore what makes this belt so special.
02. DETAIL
Masterful design that oozes quality while still transforming over time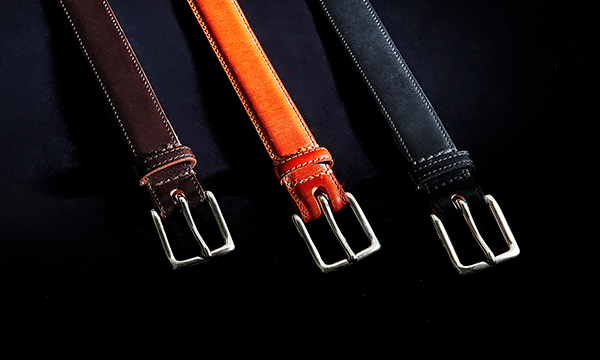 Despite being such a crucial component of men's wear, there aren't many belts out there that are both classy and capable of holding their own over extended periods of use. The harness bridle belt here is perhaps the best of Glenroyal's line-up for formal attire, the reasons being its subdued, unornamented appearance, and its amazing width of just 29mm. Its buckle also has a silver tone instead of brass or gold, enhancing its ability to pair with dress ensembles. However, the harness bridle belt not only has the hardiness and enjoyable transformation over time that are innate to bridle leather but stitching left visible as visible, giving it an inconspicuously casual aspect that allows it to fit snugly into less than formal scenes, too. This belt has just the right balance of utility and dignity to tug at the heartstrings of clotheshorses and anyone else looking for a constant companion in their wardrobe for many years to come.

Adding natural leather on the reverse side enhances the belt's elegance, while at the same time bolstering its durability and helping it pass more smoothly through the belt loops. The Glenroyal seal is another appealing touch.

The buckle is of a small, rounded square shape and always of a polished silver hue, regardless of the colour of the leather. It has a dignified feel that coordinates wonderfully with suits.
03. HISTORY
A dual evolution in both utility and fashion elements.
The leading theory on the origin of the belt goes back to days of ancient Rome and the word "balteus", which referred to a form a military kit that consisted of a leather strap for carrying a sword. The original Latin "balteus" would then evolve into the English term "belt" we know today, in much the same way as the word "band" was born from "bind". Eventually, from around the Middle Ages onwards, the belt would come to be an item not just of a military nature, but one used more as a form of ornamentation. Though belts would later come into greater demand for their functional properties, the truth is that it wasn't until recently that they started to see use as an implement for holding up gentlemen's trousers. The late 1950s are when the transition from suspenders to belts took place. A simple design is preferable in suit styles, with 3cm or less being the standard width. As its name would imply, bridle leather originates in the equestrian harnesses used by the British nobility. As a material entrusted with the lives of both the rider and the horse, bridle leather is required to be at once firm and enduring, something that makes it also uniquely suited for use belts for day-to-day wear. In Japan, belts only became commonplace gradually with the arrival of Western attire when members of the upper strata during the Meiji period (1868-1912) would wear them during social occasions. Demand for belts would later expand greatly during the Taisho period (1912-1926). Wearing a belt became a matter of course after the Second World War, perhaps due to the rise of the American way of living. Supervisor: Manabu Nariha Profile Appointed head of the Osaka branch of INFAS Publications, producers of Ryuko Tsushin and WWD-Japan, after stints as an editor and writer for Soen and The Textile Journal. Now lectures at educational institutions and is involved in many other projects such as planning and production for international exhibitions.
04. USER RECOMMENDATION
"The leather on the reverse side makes it surprisingly comfortable. I truly feel like I've found a belt I can use for the rest of my life." (Male, 30s)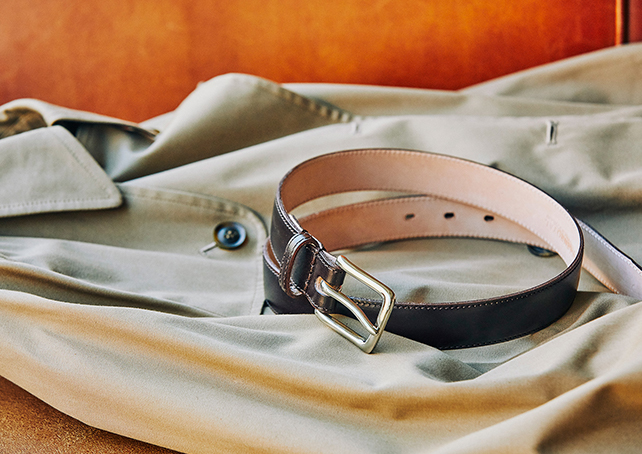 "Unlike other casual belts made of leather, this one has leather on the back that makes it much, much easier to pass through the loops. I find myself pairing it with slacks a lot since it looks so nice, but thankfully there isn't much damage from friction. And it goes without saying that it works with outfits that aren't so formal, too. Another great thing is how the belt has gained more character over the years. The one I own is cigar-coloured, but I've heard that the black version gains more lustre as it ages. I can heartily recommend this belt to anyone."
05. Q&A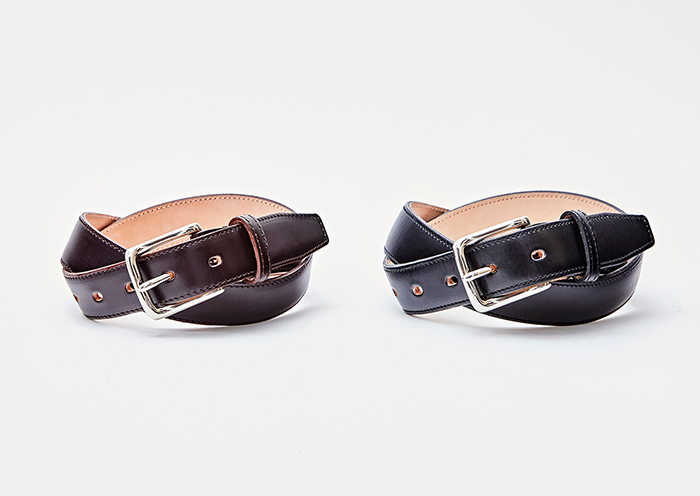 Q. What is the buckle made of?

A. This belt features a nickel-coated brass buckle made by long-standing manufacturer from the UK.
Q. What sizes are available?

A. The harness bridle belt is available from sizes of 28 inches to 36 inches in two-inch increments. The smallest waist the 28-inch belt can fit using the innermost hole is 66.0cm. The largest waist the 36-inch belt can fit using the outermost hole is 96.0cm.
Q. For what purpose do most people buy this belt?

A. This belt is often purchased by women as a gift for men. We also see many businessmen buy it as a belt they can use both on and off the job.