01. INTRODUCTION
With its minimal style and convenient design, the money clip is one of the longest-selling of Glenroyal's many items.
It is now back under the spotlight again in recent years as more and more people are choosing compact wallets.
Join us as we explore the charms of this perennial favourite from its various angles.
02. DETAIL
Intricate work emphasizing ease of use concealed in stately bridle leather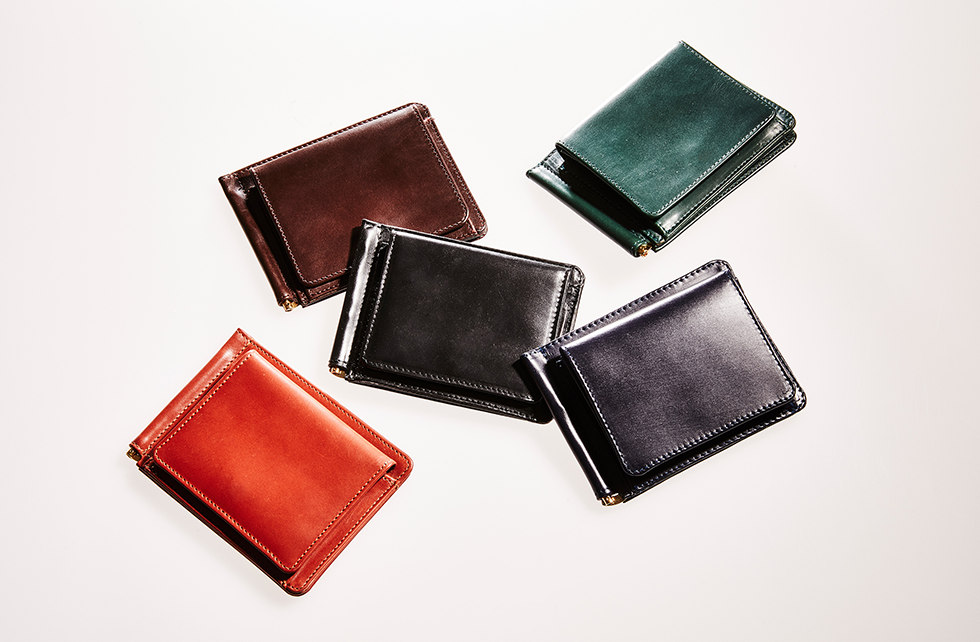 The first thing that comes to mind when most people think of a money clip is likely an uncouth metal frame. However, Glenroyal puts a classy spin on this by concealing the clip with premium bridle leather. One can enjoy the experience of seeing the bridle leather develop all the more in an item such as this that will see daily use. What's more, despite being of thin size with a wedge of nearly 1.5cm, this money clip takes practicality to the fullest with seven pockets for cards and a coin purse. This is the perfect wallet for those looking for a compact wallet but still hoping to have fun seeing bridle leather change over time. The money clip is a model that achieve the ultimate in functional beauty with an ability to hold things that are essential both on and off the job.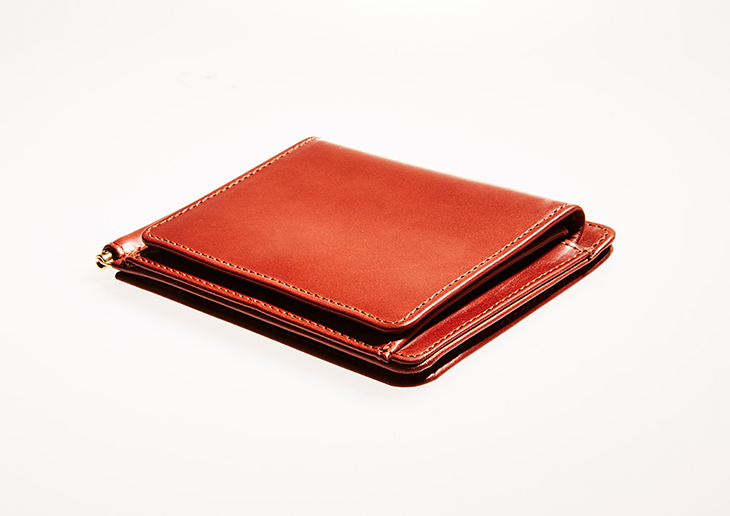 An amazing item that can hold all your bills, coins, and cards despite being nearly 1.5cm thin. The slim wedge means you can carry the money clip in any pocket without it affecting silhouette of the garment.
We elected to use a wide box-shaped coin pouch with a button snap in order to make it as easy to use as possible. The wedge of the pouch is designed to fold inwards and minimize thickness. There are also three card pockets inside the flap.

The gold-coloured clip from UK has a refined look. In addition to the clip with its firm grip, there is a pocket on one side to ensure that there is no risk of bills coming loose. On the other side are four card pockets.
03. HISTORY
Money clips: a favourite of those with a gentleman's taste
While various opinions exist on the exact history of the money clip, the most influential theory is that its origins lay in the tip culture of America and Europe. As the West has more varieties of paper money than Japan, several bills are used even when tipping at a restaurant or hotel. Clips came about as a way of keeping these bills together while still making it easy to remove them. Money clips have been a favoured essential of smart gentlemen ever since. Glenroyal's version is a masterpiece that harkens back to this heritage with a golden clip, and, as expected of a brand from Scotland, it is made to go well with a suit. The reason lies in that standard of suit styles that dictates a clean silhouette must be maintained. It is as much of a rule now as it was in the past that the only thing put in the breast pocket is a handkerchief while the hip pockets are to be kept empty. If one wants to stow something then the inner pocket of the jacket is to be used. Glenroyal's money clip is not only the perfect size to fit there, and has a slim wedge that will never get bulky. It truly is the most intelligent choice for those occasions that demand a suit.


Supervisor: Manabu Nariha
Profile
Appointed head of the Osaka branch of INFAS Publications, producers of Ryuko Tsushin and WWD-Japan, after stints as an editor and writer for Soen and The Textile Journal. Now lectures at educational institutions and is involved in many other projects such as planning and production for international exhibitions.
04. USER RECOMMENDATION
"I realized that I had been carrying around a lot of unnecessary things
before I started using a money clip"
(Man in his 30s)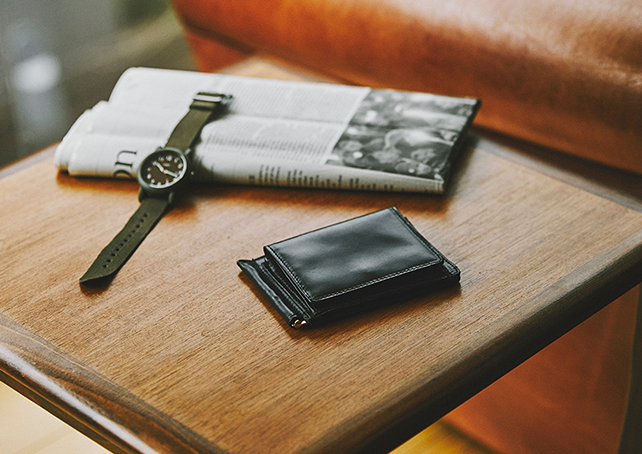 "It's much easier to use than I had imagined. The slim wedge keeps it from sticking out even when I put it in the inner pocket of my jacket, and also fits well in a small bag if I'm going out on my day off, so I can always look smart while carrying it. The money clip gives me easy access to my bills, cards, and coins, which eliminates wasted time at the cash register. It really is a stress-free wallet. I used a long wallet before this, and it was full of all kinds of cards and receipts. Switching over to a money clip made me realize how many of things I simply didn't need. I've had this money clip for nearly ten years now, and the more I use it, the more the distinct lustre and deep colour of the bridle leather changes. It's fun to see how this along with all the scratches and impressions in the leather transform it into something that is all my own. I'll never get tired of seeing it."
"It's perfect for everyday use, yet also capable of adding accent to dressy styles"
(Woman in her 20s)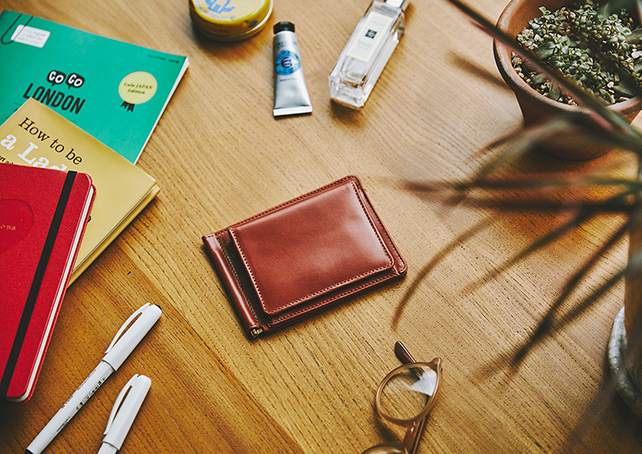 "This may be a common thing among women, but when I used smaller bags for wedding parties and the like, I would have to go to the trouble of shifting all the contents from my long wallet over to a different one that fit. It was such a pain that I switched over to a compact money clip. I was worried that it wouldn't hold everything at first, but the coin pouch and card pockets are just the right size, so it has turned out to be perfect for everyday use. It can hold more than its appearance would suggest, and completely did away with my image of small wallets not being able to carry much. Another thing is that while the design of the golden clip may be simple, it has an air of class to it that provides accent to dressy ensembles. So it works in all kinds of settings, not just casual ones. I can imagine that women have different preferences when it comes to the aging of leather, but I recommend picking a colour that suits your tastes, such as deep tones like 'new black' or 'dark blue' for those wanting extra sheen, or 'Oxford tan' and other lighter hues for those who are instead hoping to see the tint of the leather transform as well like most men do. I myself have been using my money clip for two years and just enjoying it age naturally as I put it to hard use without worrying about the details."
05. Q&A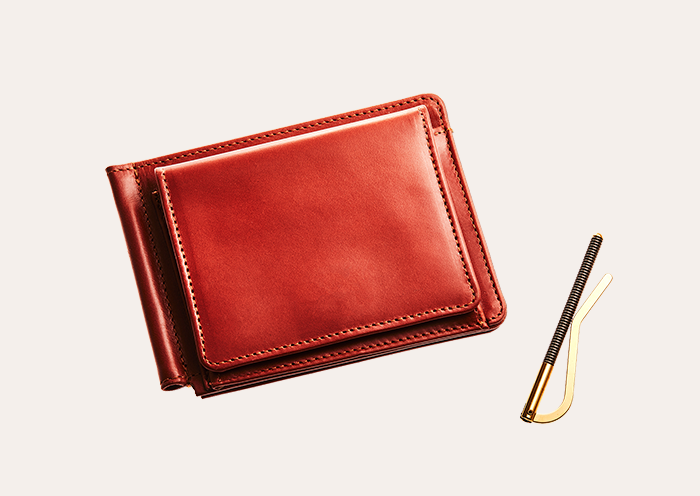 Q. What should I do if for some reason the clip happens to break?

A. The clip can be repaired or replaced. If you would like to your money clip repaired, please send your name, address, phone number (a number where you can be reached easily during the day), e-mail address, and the details of your repair to the following address. Please make sure to enter your e-mail address. (In general all contact will be conducted via e-mail)
Delivery address for repair items
Watanabe & Co., Ltd.
Attn: Repair Dept.
5-14-1 Minami-Aoyama, Minato-ku, Tokyo, Japan 107-0062
Green Bldg 2F
repair☆watanabe-int.co.jp (Please replace the ☆ with an @ mark)
Q. I've heard that the wallet will get thinner the more it is used.

A. As it changes over time, the wedge of the leather will get thinner as it becomes worn-in. This is something to look forward to along with seeing the texture and colour transform.
Q. Will Japanese currency fit as well?

A. Yes. The money clip can easily accommodate the size of Japanese currency.