01. INTRODUCTION
A refined form that captivates the eye. This lightweight briefcase adds to the appearance and intelligence of a gentleman, and shows the true worth of Glenroyal's thorough understanding of leather. Here we explore the value of this masterpiece that brings something extra to any business setting.
02. DETAIL
Orthodox style with contemporary details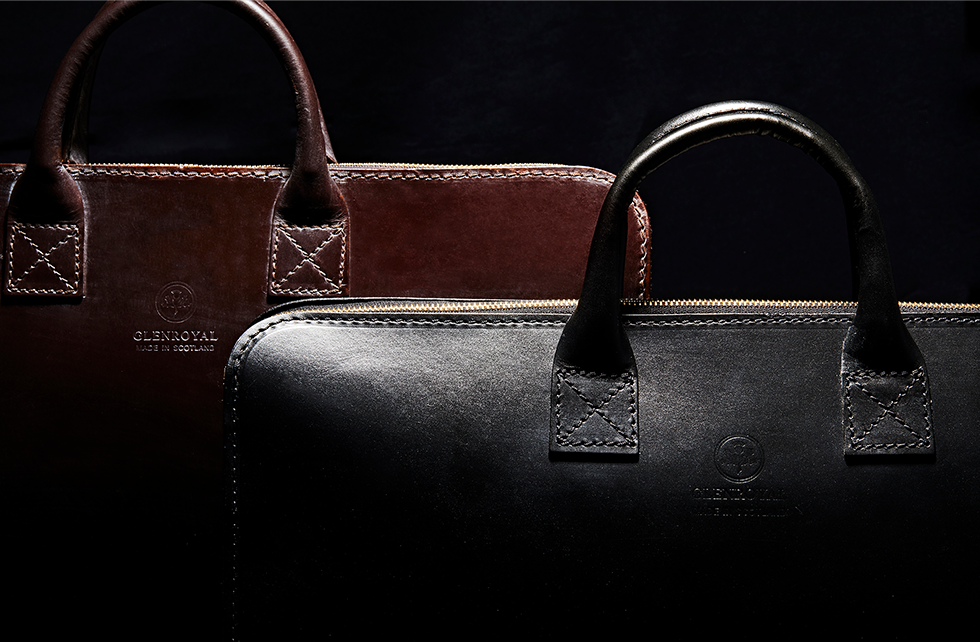 Other kinds of business bags exist besides briefcases, such as backpacks or tote bags. According to the rules of business style, though, these other kinds of bags are traditionally considered unorthodox. And when it comes to briefcases, leather is the only proper choice. Though made of sturdy bridle leather, Glenroyal briefcases are astonishingly lightweight. What's more, they include inner cases and rain covers that make them extremely versatile. This model is classic, austere, and hardy, yet also updated with modern touches. The result is an all-time masterpiece that elevates everything it carries.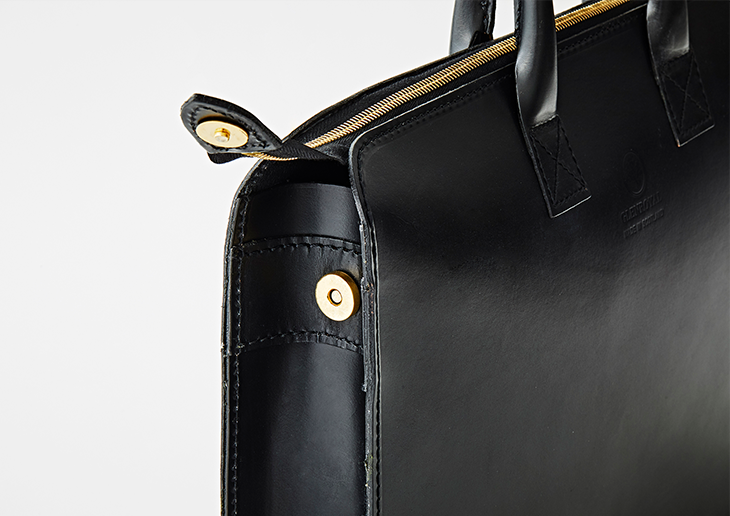 The main zipper has magnetic buttons at each end. Slightly long, the zipper lowers when undone, creating a wide opening that offers easy access to the case's interior. The zipper can also provide extra carrying loops when the fasteners are closed.
The assist bag that comes with the briefcase has a dual-layered main compartment that is more than capable of carrying a 13-inch laptop computer. It's also padded, so jostling won't be a worry. Its storage capacity is further boosted by pockets on the outside for efficient stowing of small items. The assist bag is the perfect way to keep things organized when the situation calls for lots of accessories, but can also just as easily be left at home when the main briefcase alone will suffice. Yet another option is to use only the assist bag with an entirely different briefcase, so there is plenty of versatility here to suit the occasion.

Thanks to Glenroyal's craftsmanship using only durable bridle leather and absolutely no secondary materials, this briefcase not only stands out from the crowd, but is also incredibly lightweight at just around 700 grams. Even the compartment dividers are bridle leather, so the look is one of elegance, through and through. Glenroyal chooses from five thicknesses of leather and three thicknesses of thread that best suit the needs of each product in order to achieve a pairing of durability and lightness not found in any other leather goods.
03. HISTORY
An inevitable legacy heralded as the epitome bridle leather bags
Many briefcases today are made of nylon and, if truth be told, look a bit boring. However, a look back in time reveals that nothing could be farther from the truth. For starters, there is the "brief" in the name, which refers to briefs, in particular those documents presented by lawyers in courthouses to state their case. While this exact same form of document doesn't actually exist in Japan, the main idea is that they were items vital to the trial proceedings. Briefcases originated as bags intended for carrying such documents, preferably with a thin wedge. A gentleman's briefcase was also generally made of leather, with some books on etiquette even going so far as to say that a leather briefcase was the only choice for those who want to advance and gain autonomy in life. This is all part of the reason why bridle leather bags are the de facto standard in Britain, the home of gentlemanly culture. These gentlemen with such discerning taste and a history with leather craftsmanship chose bridle leather briefcases because they are tough and hardy enough to stand on their own, yet also pleasing to the eye.
Supervisor: Manabu Nariha
Profile
Appointed head of the Osaka branch of INFAS Publications, producers of Ryuko Tsushin and WWD-Japan, after stints as an editor and writer for Soen and The Textile Journal. Now lectures at educational institutions and is involved in many other projects such as planning and production for international exhibitions.
04. USER RECOMMENDATION
"I love the briefcase's refined, minimal look that goes with any style of outfit. It has drastically reduced my prep time in the morning." (Male, 40s)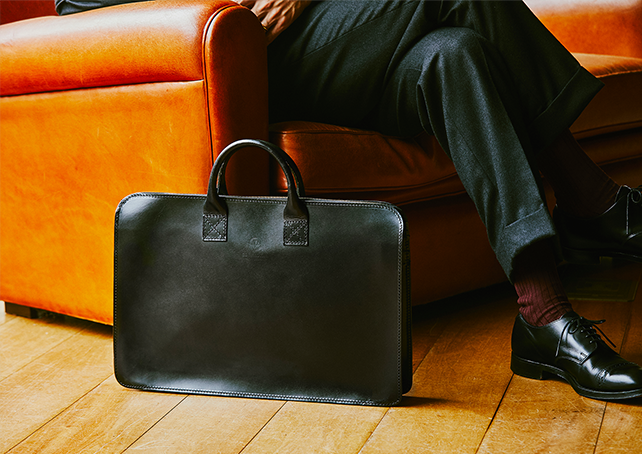 "Before I got my Glenroyal briefcase, I spent a lot of time in front of the mirror worrying over what clothes and bag to go with that day. Once I did, though, my prep time went down drastically. The briefcase has a simple look without any excess ornamentation, which makes it an easy fit with any style. It goes exceptionally well with a wide range of leather shoes. The wedge is quite compact at 75cm, and the handles can fold down 180 degrees, which is convenient when I need to hold onto it in my arms on a crowded train like I would a clutch bag. It's attractive enough that I often notice it drawing people's eyes when I walk around town, too. Business settings involve a lot of first-time encounters, so having a briefcase that people many times tell me looks nice is another way of breaking the ice. And then there's the bridle leather, of course. I've been using this briefcase for nearly a year now, but it wore in much more quickly than I expected, and has gained a supple texture. That isn't to say I've ever worried about it going soft on me, because it still stands up as well today as it did on the day I bought it!"
05. Q&A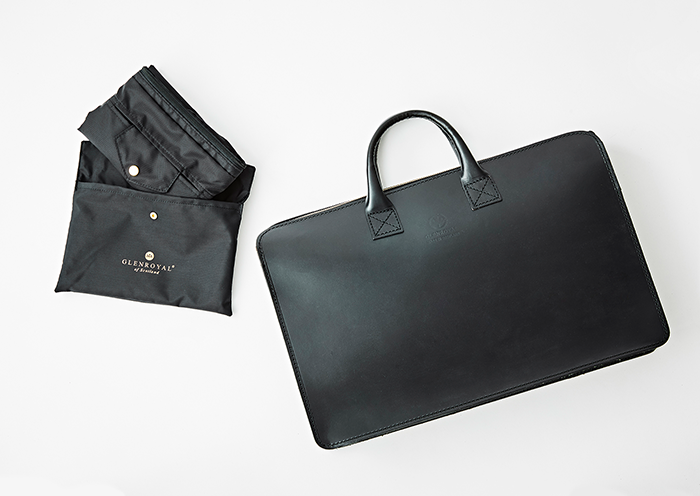 Q. My previous leather briefcases all started to bend after time. How about Glenroyal briefcases?

A. At Glenroyal, we preserve just the right amount of thickness in our leather to ensure that, as long as the briefcase is used properly and with care, there is little chance of it losing its shape. Furthermore, the included "bag-in-bag" can act as a backbone that prevents curving and other warping.
Q. I'm worried that the briefcase might be a bit heavy to use for work.

A. This model was made specifically to counteract the notion that leather briefcases are by default heavy. There are plenty of other light leather briefcases out there, but Glenroyal's are all designed to accentuate the texture and presence of the bridle leather.
Q. I would like to use my briefcase for a long time. Can I have it repaired?

A. This applies to all Glenroyal bags, but the designs themselves are quite simple, which in turn means that they are easily repaired. We will endeavour to repair your briefcase as thoroughly as possible, so please feel free to contact us if an issue arises. (Please note that, in general, all contact will be conducted via e-mail)

Delivery address for repair items
Watanabe & Co., Ltd.
Attn: Repair Dept.
107-0062 Tokyo-to, Minato-ku, Minami Aoyama 5-14-1
Green Bldg. 2F
repair☆watanabe-int.co.jp (Please replace the ☆ with an @ mark)