ITEM 002
Tote Bag
The general term for a bag with handles and a large opening. "Tote" means "to carry", and it is said that this type of bag has its origins in the 1940s in the United States as a means of transporting water and ice.
The model would later come to be found in all sorts of shapes and materials as it is now. In addition to nylon and canvas, in the UK there are also tote bags made from traditional bridle leather.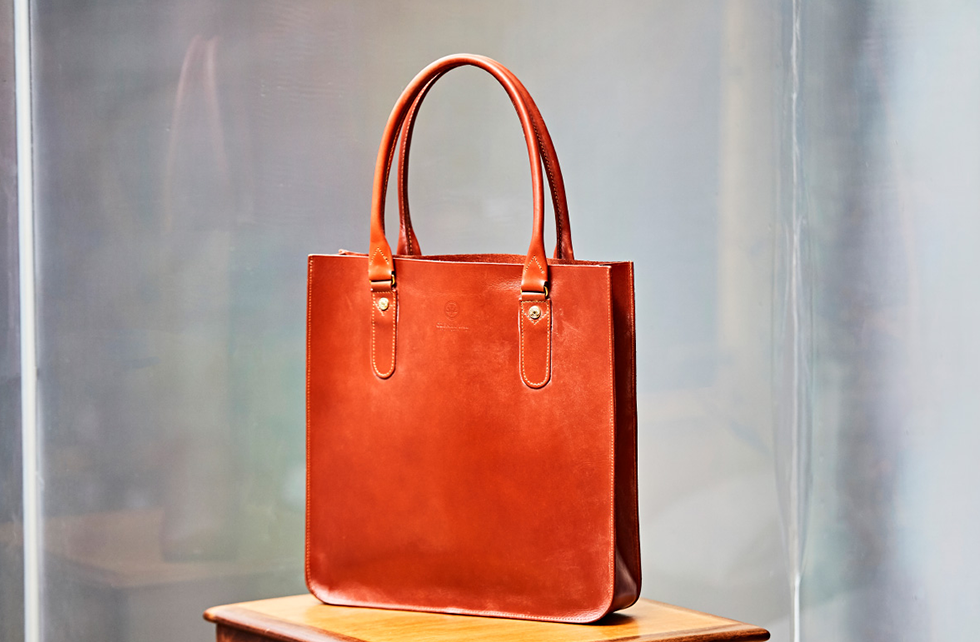 The unique advantage of a leather tote bag is
that it allows me to easily stow or
remove my camera as the situation demands.
After stints as a DJ and stylist, Yasuyuki Takaki is now at the forefront of the scene as a photographer.
With his profession requiring that he carry many things with him, this Glenroyal tote bag has become a favorite of his due to how easy it is to use.
Here we speak with Mr. Takaki about his preferences and what he likes about the bag.
Photographer
Yasuyuki Takaki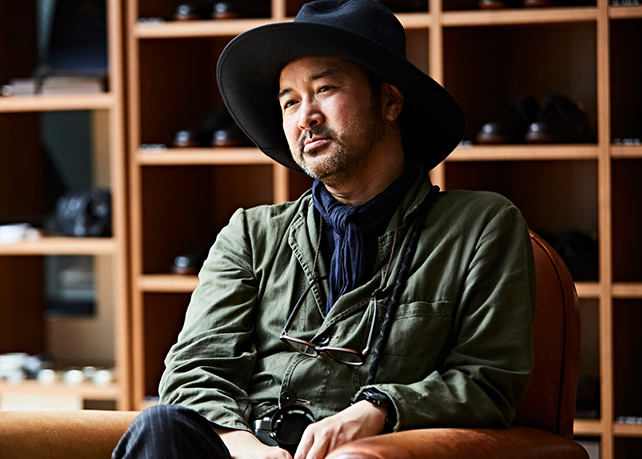 Using a tote bag makes it easier to blend in around town.
━ Tell us what appeals to you about tote bags.
In my line of work, I often have to use large camera bags or carrying cases. So if for instance when boarding a flight I bring a tote bag along with my carrying case, I can at least keep valuable items like my PC and camera right there with me. Part of this is that cameras are a bit lighter than they once were, though. Also, sometimes I don't want to stand out as a photographer, right?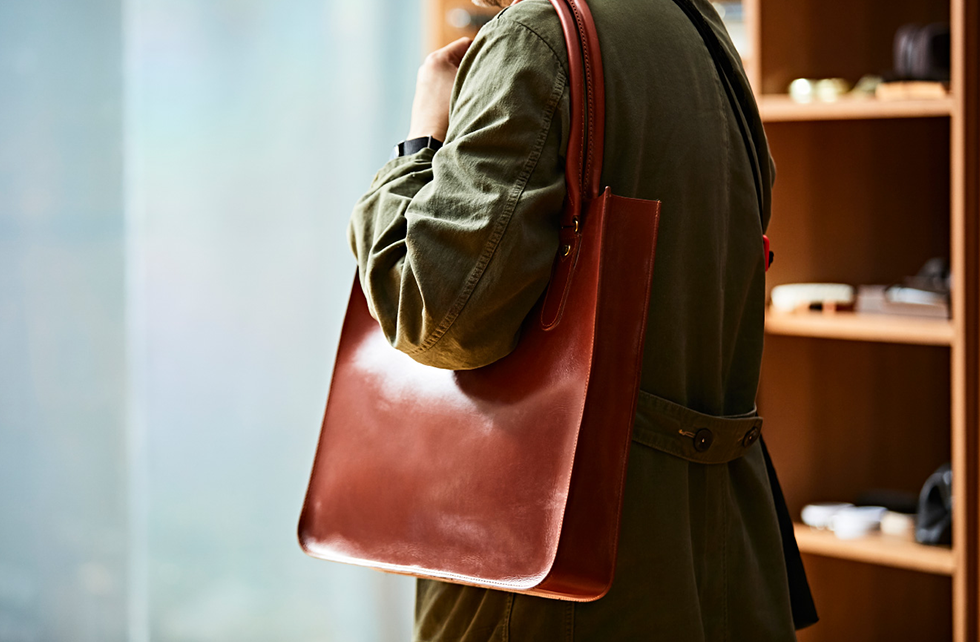 Like for example if I'm taking pictures of cherry blossoms in the park, every once in a while a clever girl will come up and ask me to snap a photo for her. Since she's gotten it into her head that I can take good shots since I've got a nice camera hanging from my neck (laughs). That's why it's even more embarrassing when I don't perform up to expectation because I can't figure out how to work the smartphone she hands me (laughs). So one appeal of the tote bag is that I can avoid that type of situation by quickly tucking away my camera when needed. Carrying a tote bag allows me to fit in more easily when I'm out in the city.
An upgrade to my outfit.
━ What is your impression of Glenroyal?
The workmanship is solid and really makes it sink in that this is a label that has been in business for over 100 years running. Glenroyal products are light for leather goods, and I feel like the way they avoid excess ornamentation gives them a touch of class. Actually, I was quite fond of briefcases before I bought this tote bag. At the time I was pairing a Kelly green briefcase with suits by Liverano & Liverano. I used the case for more than five years after purchasing it in 2002 or so. From there I underwent some changes in terms of profession and personal style to the point where now I prefer brown tones with a British feel to them. Combining brown shoes and bags with grey suits just looks really British, right? While there aren't as many occassions that call on me to wear a tie these days, I feel that simply carrying a Glenroyal tote bag as part of a casual ensemble really enhances my outfit.
A bag that can be trusted with a camera.
━ What do you like about Glenroyal tote bags?
I naturally can't have my cameras falling on the ground, so I'm hesitant to put them in bags that I can't trust. I like Glenroyal tote bags because they use stiff bridle leather and are built solidly. A little bit of rain isn't going to trouble them any, so I can feel safe using them to carry my cameras. They also stand upright when set down, it's great to be able to place it at my feet when I'm in a restaurant or somewhere that I have to put my camera away. Also, there surprisingly aren't many leather bags that you can wear over your shoulder. One of the greatest things about this bag is how I can keep it over one arm and get at my camera quickly as called upon by the situation.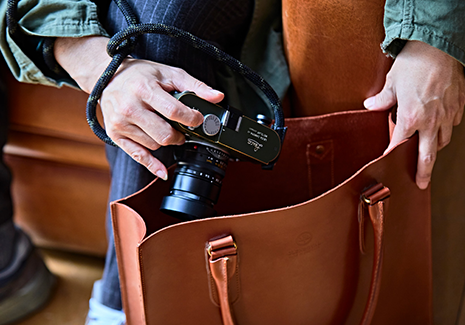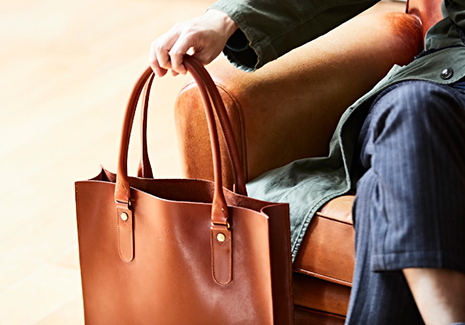 A natural progression to photography.
━ Tell us how you transition from DJ to stylist to the photographer you are now.
I changed from being a DJ to a stylist when a friend reached out to me saying that if I liked Vivienne Westwood so much, then maybe I should try my hand at it using only clothes from that label. Photography happened when I was placed in charge of the wardrobe for an actor playing the role of a character without much money in a certain TV drama. His role only called for me to prepare two costume patterns, so I pretty much didn't have anything to do during the three months or so that the series was shooting. Naturally I was bored out of my mind, so I brought a camera on set and started taking photos. I was complete rubbish, though (laughs).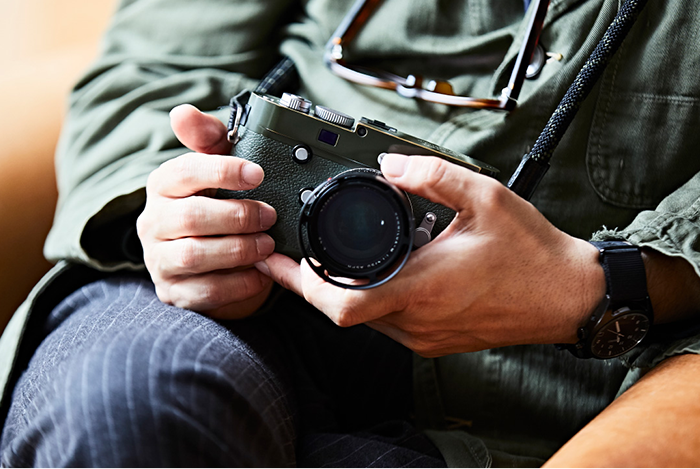 I was always observing fashion photographers at work, which gave me a general idea of what sort of shots to take, only I didn't have real knowledge and was really unskilled. What's more, whereas the hair and makeup person knew about lighting and would go over the finished shots with the photographer during meetings, I didn't know how the finished shots would be until I took a test polaroid. This made me realize that I would be able to do better work if I knew more about photography and could communicate with the person behind the camera. That's how I found myself delving deeper and deeper into the world of photography.
A spirit that loves getting a lot of use out of a single item.
━ Tell us a bit about British culture.
I've loved British fashion since I was young and really immersed myself in its culture like punk and New Wave from London, two-tone styles like those of the Specials, and Vivienne Westwood. I've since had the opportunity to go to London several times for work and really gotten a taste of the actual city. Whenever I speak with people over in England I'm always aware of how stylish they are. For instance, people whose preferred winter coat is by Barbour will wear it until it's all worn out then go buy another from the same brand. The same goes for fans of Lavenham or Mackintosh; once they like something, they always have one on hand. Japanese are more prone to buying something different once its predecessor is past usefulness, right? I really find this part of the British way of thinking to be interesting.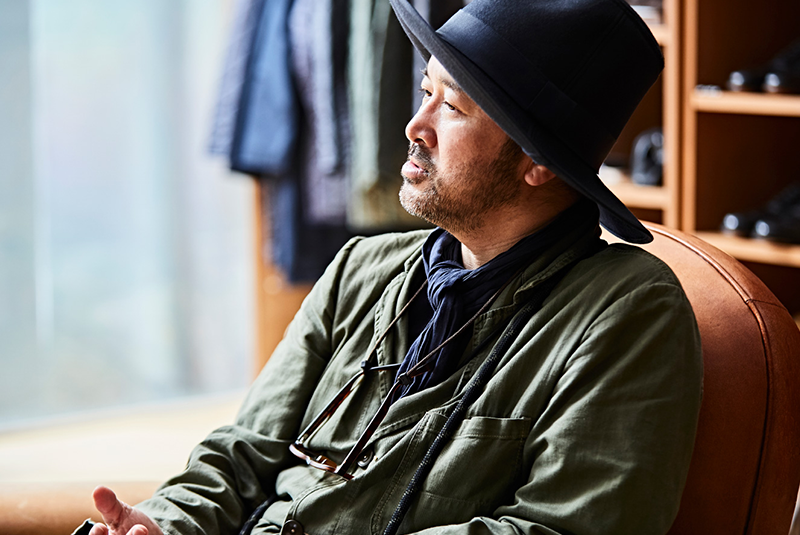 Selectivity influenced by England.
━ Do you feel that this way of thinking carries over to how you make your own choices?
Very much so. I pretty much only use items that I've decided to stick with. For example, recently I only wear shoes by New Balance, and my pants are all grey. I have about 15 extras of this cotton coat I'm wearing today, and I'm always prepared to buy more if I come across the model in the right size and color. I choose the hats and wristwatches I use regularly in the same way. As for tote bags, I have an early Hermes model, an L.L. Bean nylon bag, this Glenroyal leather tote that I use interchangeably depending on the situation. Each of these items is irreplaceable to me, so I can't but use them a lot.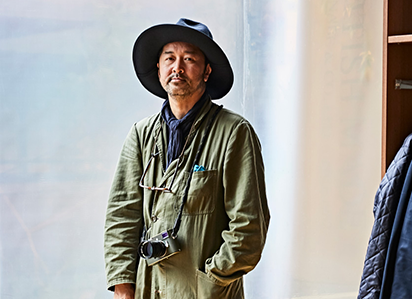 Photographer
Yasuyuki Takaki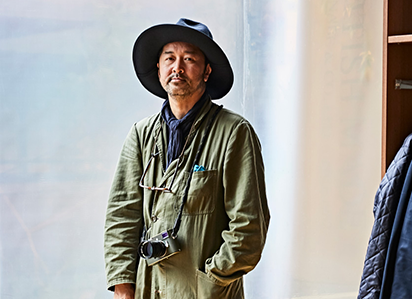 Born 1968 in Osaka Prefecture.
Started a career as a photographer in 1994 after stints as a DJ and fashion stylist. Works mainly with men's mode magazines, fashion advertisements, and album covers. "Gridscape", the urban portrait series that constitutes his life work, has received acclaim in Japan and abroad.
In Takaki's own words, he is at his happiest when photographing children.
http://tkklab.com
photo TRYOUT 
text K-suke Matsuda