01. INTRODUCTION
The round long purse is one of the leading best-seller models among all Glenroyal products. Though made of rugged bridle leather, it also comes replete with plenty of attention to detail and beauty of form. Join us as we delve into the heart of this acclaimed design that has proven so popular with both men and women.
02. DETAIL
A marriage of tough bridle leather and practical details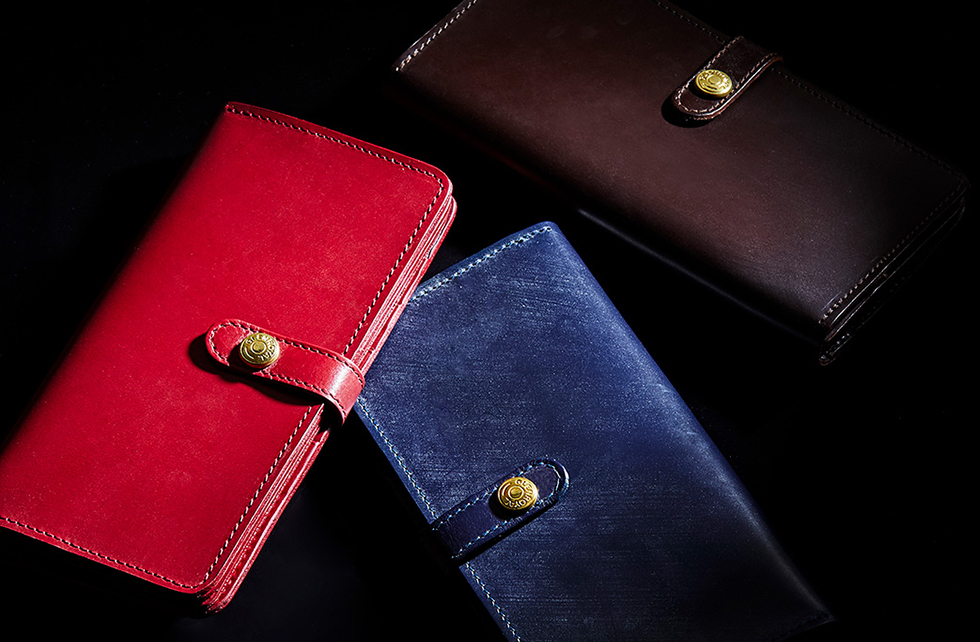 One of the most striking features of the round long purse is its innovative yet functional appearance. Its rounded form along with the flap and snap button on the front counteract the brusque look of the bridle leather. The long purse also has an air of class that fits well in a variety of settings. The choice of a curved, round zipper for the coin pocket is a functional detail that makes it easy to check and access its contents. What's more, the abundance of flat surfaces on the outside of the purse means that this is one of the best items among the expansive Glenroyal line-up for experiencing the way bridle leather transforms over time.
With four pockets for bills, five for cards, and a coin pocket, the round long purse boasts impressive storage capacity. Never fear, however, for the purse has a snap button to guarantee that it remains compact even when carrying a large amount of items. Its contents falling out accidentally will never be a concern, either. Last but not least, there are two snap locations to enable the button to be fastened even when the purse is filled beyond capacity with shopping receipts and the like.

The coin pocket features a round zipper that traces a curve and enables to be opened wide for easy access. With normal zippers it can be difficult to reach coins inside the pocket when the leather is new and not yet worn in. But, this round zipper is a cinch to use from the get-go, and greatly enhances the usefulness of the purse.
03. HISTORY
The long purse is the archetypal billfold in both Japan and Europe
The history of purses is intricately tied to that of currency. Some theories today state that the world's first hard currency was issued in the region of Turkey around 7th century BC. Bronze statues discovered in the area depict people carrying objects that resemble purses. Such purses came to more closely resemble their modern counterparts with the birth of paper notes in the West during the 17th century. As there were of course no cards at the time, these purses were generally long since they were meant for holding bills. They were most often made of leather as well. Credit cards eventually arrived in the 1950s, and this is when we began to see purses that look like those we have today. Meanwhile, regional paper currency known as "hansatsu" ("clan notes") came into being during the 17th century. It was customary to use a type of paper known as "kaishi" at the time, and "kami-ire" pocketbooks for carrying these notes became commonplace. These kami-ire served as the base model of what became a proper archetypal model of purse for keeping hansatsu on one's person. This original model then gradually transitioned towards a more Western appearance as Japan opened to the customs of the outside world. The emergence of credit cards has heralded further diversification in purse design. Supervisor: Manabu Nariha Profile Appointed head of the Osaka branch of INFAS Publications, producers of Ryuko Tsushin and WWD-Japan, after stints as an editor and writer for Soen and The Textile Journal. Now lectures at educational institutions and is involved in many other projects such as planning and production for international exhibitions.
04. USER RECOMMENDATION
"It can hold a lot, but I never have worry about things falling out thanks to the snap button and flap!" (Male, 30s)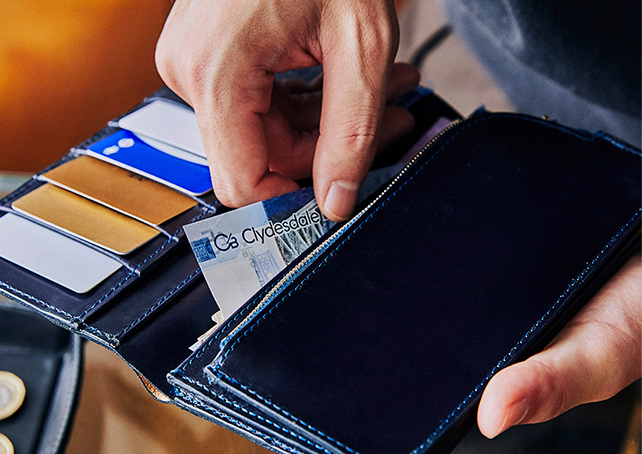 "I fell in love with the simple yet irresistibly eye-catching design of the long round purse the moment I saw it. However, I have to say I was honestly a little concerned about how much it could actually hold. Once I actually started using it, though, I found that not only was it easy to insert bills and coins, but that the purse could fit much more than I had expected. The flap and snap button keep it held shut tight, too, so I've never needed to worry when carrying it with me. And what's more, the way the purse changes with use over time are quite visible, so I'm looking forward to seeing its look evolve. I'm also happy to say that the flap and snap button are very sturdy and have yet to show signs of wear!"
"I find it easy to organize thanks to the round zipper and many pockets for bills and cards." (Female, 20s)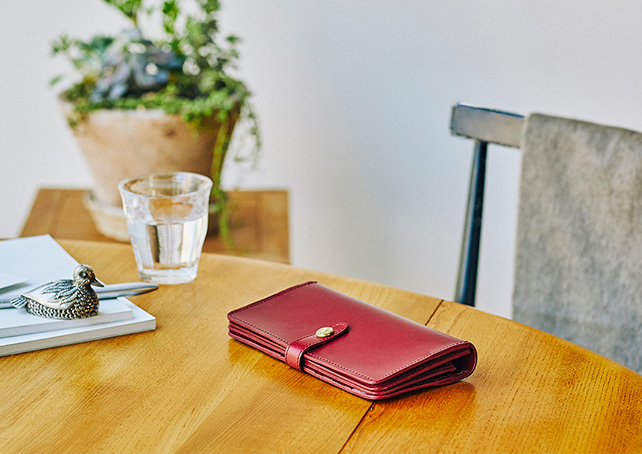 "Long purses can hold a lot, but many times aren't very good at doing so in an orderly manner. The Glenroyal round long purse excels in terms of making its contents visible when opened and thus simple to organize. The pockets for notes and the round-zippered coin pouch have all grown to fit my hands well and become easier and easier to use. Another great point is that, even though I find myself using more cards these days, there always seems to be an open spot to hold them. It goes without saying that I also love the design, to the point where I find myself just setting the purse on the table to look at it (laughs)."
05. Q&A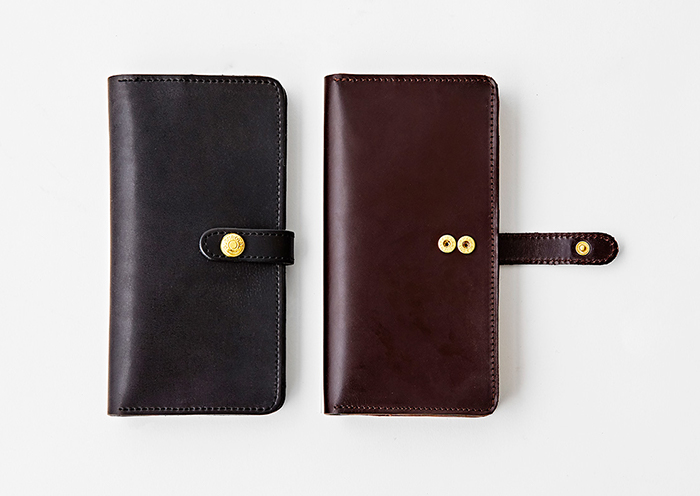 Q. don't see many other brands doing this sort of rounded design.

A. This round long purse was originally made for women, and there were even variations using leather printed with Tartan and floral patterns in addition to the bridle leather version. However, its superb design also proved popular with men as well, to the point that it is now one of the most popular models in the Glenroyal line-up.
Q. What is the origin of its name?

A. Its name comes directly from its appearance. As one can see, this purse has rounded corners. It was designed this way with a female audience in mind, in order to soften some of the innate roughness of the bridle leather, as well as to make it easier to use with business and casual attire.
Q. It seems a bit small for a long purse. Will it hold Japanese bills?

A. While we recommend trying it for oneself, the long round purse is more than capable of carrying Japanese bills. The zipper of the coin pouch also has a rounded design that is easy to open and access. This is a triple-measure purse that excels in terms of design, size, and convenience.