01. INTRODUCTION
Everyone wants to own an item that could be called a "true work of art" at least once in their lives.
Glenroyal's three-compartment briefcase is
a masterpiece that fully lives up to that description with its beauty, hardiness and dignified history.
Join us as we explore what makes this briefcase such a timeless favourite.
02. DETAIL
A brilliant lock shining in the rough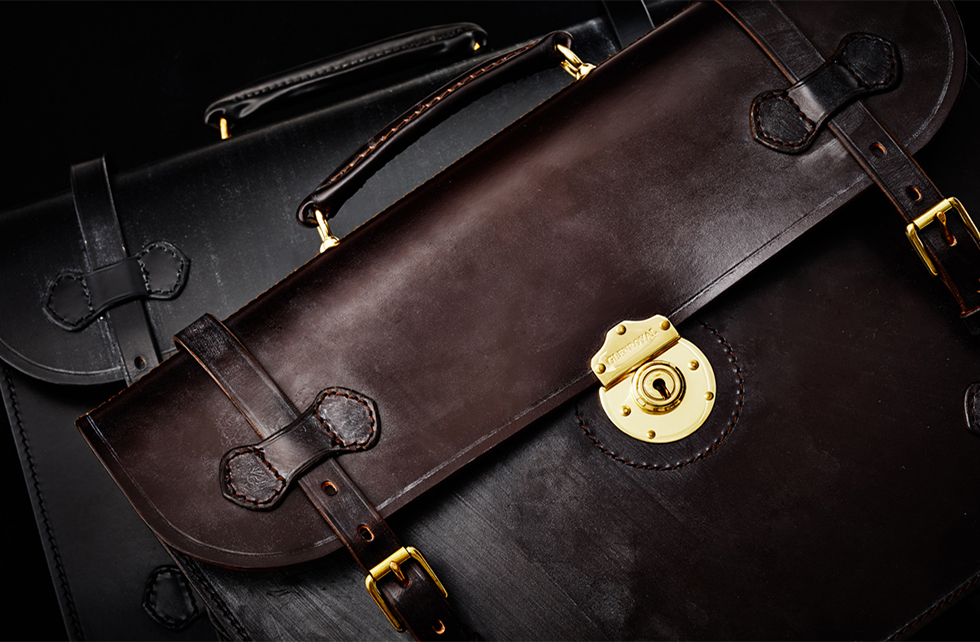 With its thick, sturdy leather and details like the belts wrapping around the body, this briefcase gives one a true sense of bridle leather's charms as a material originally used for horse tack. The classic design done in tough bridle leather ensures that it will be a staple item that lasts a lifetime. What's more, in spite of its seemingly rustic looks, this briefcase is just the right size to fit into any modern business scene. The fact that it has three compartments inside also allows it to adapt to a variety of purposes. Even the other internal features like the pen holders and card case use bridle leather, making this briefcase a coveted item for any gentleman.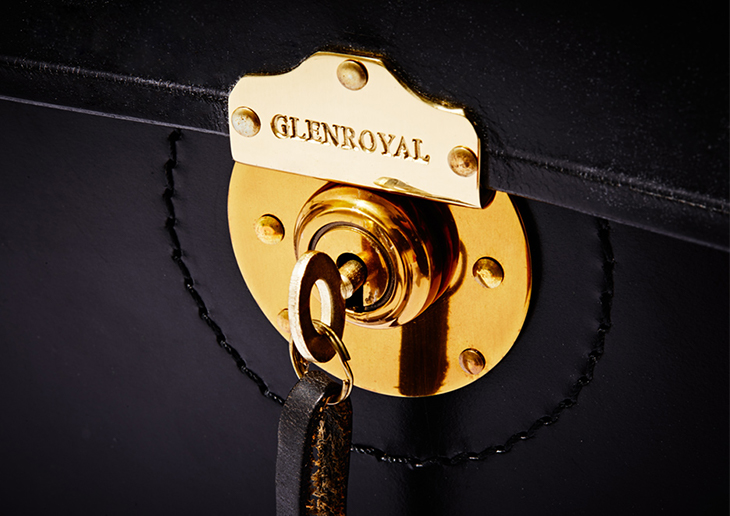 It's only fitting that such a stately item have a bit of showy accent to it, provided in this case by the brass lock, which adds contrast to the rugged leather with its air of quality and refinement. One mustn't forget that the brass will also change over time alongside the leather.
The two belts wrapping around the body provide a firm hold to prevent the case's contents from spilling out. Unnecessary bulkiness will never be a concern thanks to buckles for adjusting the tightness. The distinct look of the belt buckles also creates a feel of authenticity.

A three-compartment interior provides a versatile structure for keeping documents, files and other items organized. Holders for cards and pens on the front divider make it easy to get exactly what you need, when you need it. The wedges fold inward as well, so in situations where the case isn't carrying much the belts can be tightened to make it even easier to carry on the go.
03. HISTORY
A timeless bag with a proven history
Briefcases made of thick leather with metal clasps are generally referred to in Japan as "Dulles bags". The Dulles bag arrived in Japan during the 1950s from America, with Secretary of State John Foster Dulles being the originator. Its striking appearance and case with metal clasps unlike any seen before surprised even Japanese bag craftsmen, and led to the "Dulles bag" becoming a social sensation. Therefore, this term for such briefcases is unique to Japan. In English, they are called doctor's or lawyer's bags, and as those names would suggest, they ware often used by people working in such professions. This means that they are many times used to carry documents, instruments, and other important items, which accounts for their locks and wide wedges. Though their design may be a versatile one that allows for extended usage, these briefcases have a singular countenance that fits amazingly into today's society. Why not try out the three-compartment briefcase from Glenroyal as your first step towards being a true gentleman?

Supervisor: Manabu Nariha
Profile
Appointed head of the Osaka branch of INFAS Publications, producers of Ryuko Tsushin and WWD-Japan, after stints as an editor and writer for Soen and The Textile Journal. Now lectures at educational institutions and is involved in many other projects such as planning and production for international exhibitions.
04. USER RECOMMENDATION
"This briefcase has a dignity to it that gets me ready for action and naturally more ambitious just by holding it." (Male, 30s)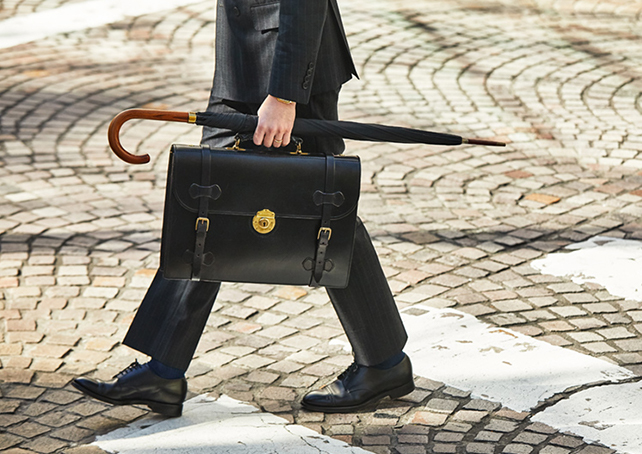 "I was looking for a briefcase that would last me for a long time, and I liked this one in particular because it had a classic design that wasn't influenced by trends. It was also made of thick bridle leather, so I knew straightaway that this was a bag I could use forever. Once I actually use it, I'm glad that I can use it not care too much even better than imagined. I grow more fond of this briefcase every time I look at it thanks to the elegant sheen it gained over time. I'm careful to make sure that my attire has a sense of uniformity to it by choosing suits and shoes made of similarly orthodox materials so that I always make the best first impression possible."
05. Q&A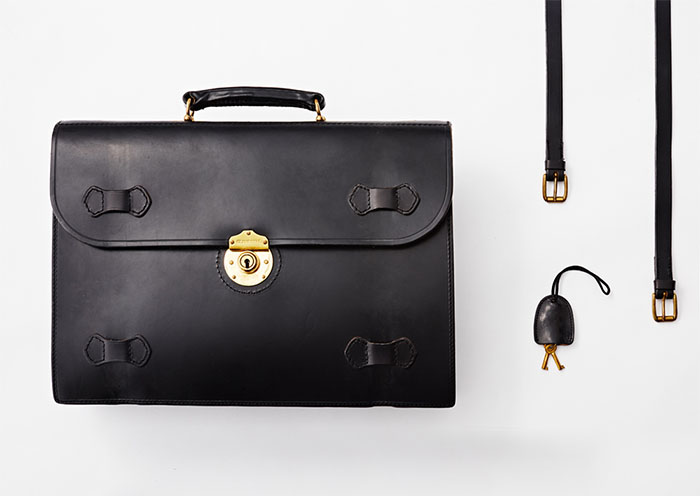 Q. What sort of person purchases this briefcase?

A. Those in legal professions or others who normally wear suits in the workplace, usually around 40 or 50 years of age.
Q. How do I fasten the lock on the front?

A. Insert the key into the lock and turn it one full rotation counter clockwise.
Q. Is a spare key included?

A. The briefcase comes with a single spare.