No.019
A functional wallet that fits the lifestyle of a mode advisor
Mode advisor of Kindware Head storeEiji Nishihara
I've never used another wallet for this long.
It's convenient and cool, so I never grow tired of carrying it with me.
After many years in apparel planning, Eiji Nishihara now acts as a mode advisor who suggests styles in line with the way people live today.
Though thoroughly versed in the nuances of craftsmanship, Mr Nishihara says he often makes his selections based on his gut feelings about how innately cool or useful items are rather than their background or pedigree.
Join us as we speak with him about his work, lifestyle, and the reason why he's used a Glenroyal wallet for so long.
Wardrobe proposals appropriate to each client's lifestyle based upon dialogue.
━What exactly does being a "mode advisor" entail?
Normally most of the advising I do is in regards to suits, but I do also provide total outfit proposals with the related shirts, shoes, and accessories that going along with business attire. Bespoke by its very nature has always involved much conversation and dialogue, so I speak with my clientele in order to understand their lifestyle and circumstances, and then from there try to provide them with advice that meets their needs. In that sense, what I do is perhaps a bit different than the work of a stylist, salesperson, or fitter.
Take, for instance, a customer I had come all the way from Kyoto just recently. Rather than speak of fabrics and materials, I instead built up an image of what sort of proposal I was going to make by talking with him about things that had happened to him recently and answering questions about the good courses of action in certain situations. If he had simply been making an order, it would've ended with him saying "I'll take this" or "Please make this", but what I find so satisfying about how I work is that I get to paint a more nuanced picture of what my clientele need by giving thought to their actual lifestyles. This is why I spend at least an hour or more interacting with each person.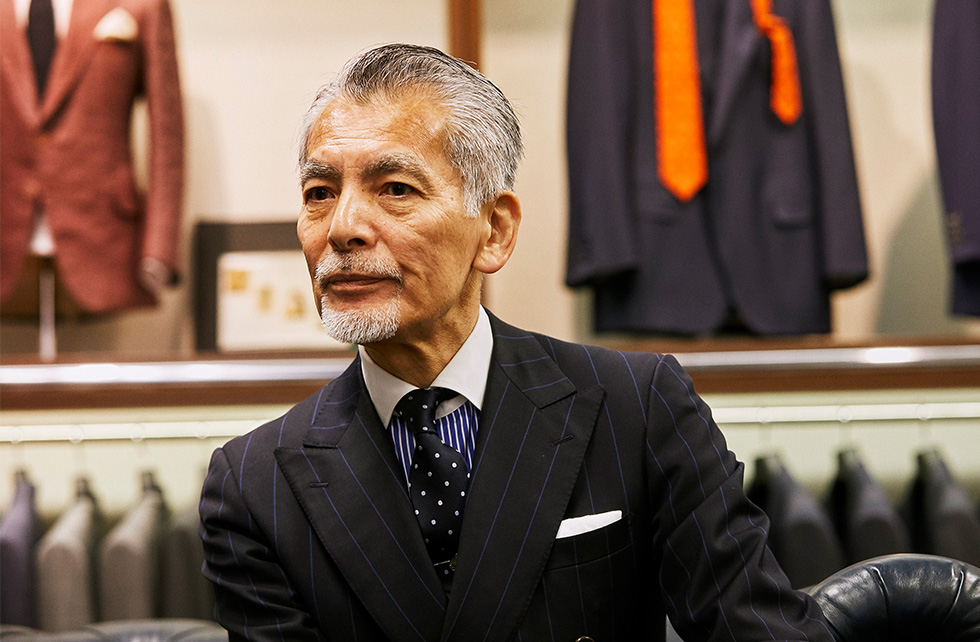 A lifework that draws upon every bit of his past experience.
━Do you ever visit your clients' homes to tailor their suits?
I do indeed visit some clients whose professions make outings difficult to take measurements at their homes. Many of these "house calls" are in fact for doctors working at hospitals. No place is open when they finish work late at night, so I'll instead go to them and get them sized. In addition to suits, I have also done planning for brands from the UK and America, and the knowledge of craftsmanship like design, fabric and materials has proven extremely useful in what I do now. Oftentimes I'm able to help clients feel more at ease in their decisions by fielding their questions and speaking with them about how things are done in America or the UK. That does mean that each order ends up taking quite a bit of time, though (laughs). Nothing makes me happier than when a client likes the suit I made for them and puts in another order. I never want to retire, and hope eventually to be able to making a living entirely on making those kinds of home sales with trunk in hand.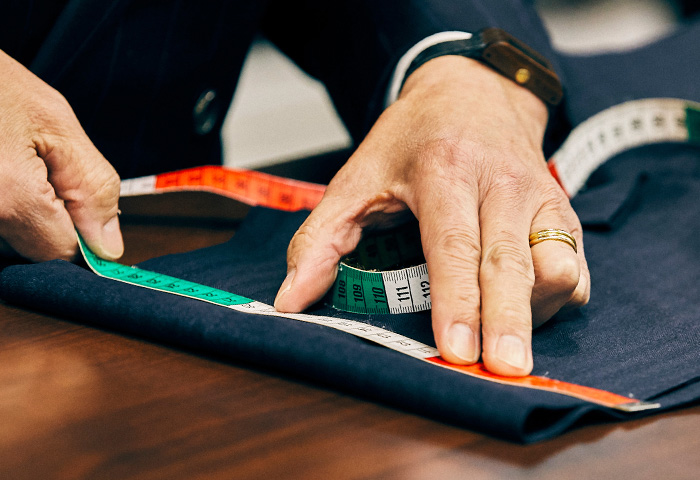 A passion motorcycles that blossomed in his early 30s.
━How do you spend your time off from work?
My hobby is motorcycles, and, while I'm still an amateur, I've even done some racing. I was a late bloomer in terms of getting my license, but I got hooked on bikes in my early 30s, and from there started with a Honda and then went on to Kawasaki and Suzuki models before eventually arriving at Ducati. At my peak, I had five motorcycles at home, having bought a Bimota for racing and then other models for off-road. My wife doesn't like staying at home alone, so she got her license, too, and often went touring with me. Most recently, I'm into taking a drive down to the motorcycle dealers in Yokohama and talking shop with the staff about new things the manufacturers are doing and so on. I'll then go relax at a coffee shop for a bit before heading home. It's a great way for me to freshen the mind.
Choose based on inspiration, then find the quality later
━Give us some details on how you make your choices in terms of products.
Whether it's clothing, accessories or even motorcycles, I find it most interesting to select things based on sense. I believe if you start by picking something that inspires you as cool, or maybe functional and useful, then you'll come to understand the materials and quality of its craftsmanship later once you actually put it to use. While of course it's the finished product that matters in the end, I feel that it's also possible to achieve some fairly good results with the right amount of "preparation", as in having raw materials that are of fine quality, or that maybe have a certain atmosphere to them. I have tried judging motorcycles by going through their engines and parts one-by-one, but in the end what always mattered most was whether or not I would be able to enjoy touring with my friends while riding said bike. So, if I choose something based on my first impression and then find it to be good upon actually using it, then I believe it must be of truly good quality.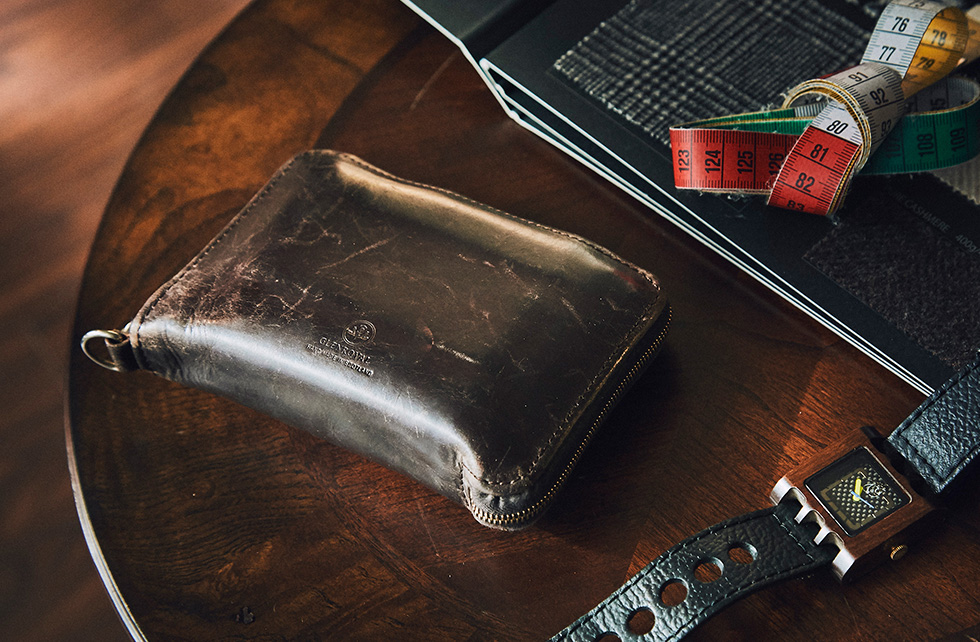 A love that started with leather goods at long-standing British tailor "Huntsman".
━How did you first discover Glenroyal?
My company had a connection with Huntsman, a British tailor that has been around for quite some time, so I had several occasions to visit their store in the UK. On one such visit there were some Glenroyal leather items that caught my eye. When I found upon returning home that Watanabe & Co were acting as Glenroyal's agent in Japan, I made arrangements to carry their products at my shop Kindware as well. The first Glenroyal I personally picked up was a handy shoehorn with keychain attached. Unfortunately, I misplaced it somewhere along the way. I then later purchased this bellows-type wallet.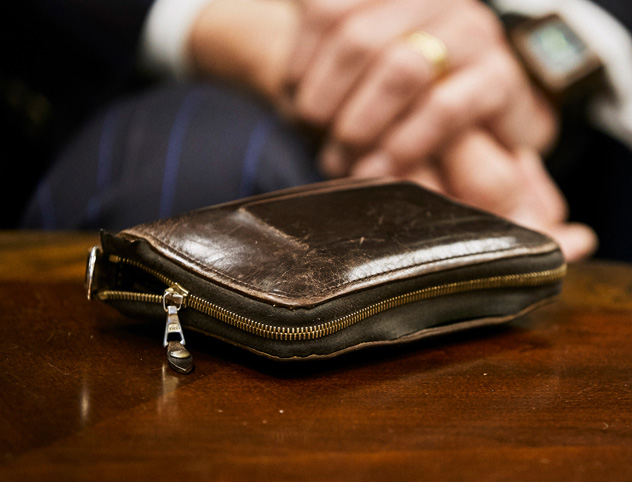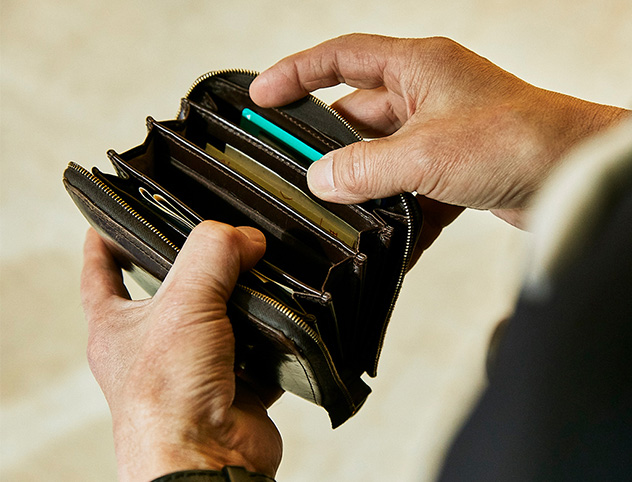 Functional, easy-to-use items are the ones that stay around for the longest.
━What are some requirements for you in items you use for a long time?
I've never been one to be particular when it comes to brand, and instead mostly just held onto to those things that strike me as cool, functional or useful. Take for instance the pens I use in my work, my favourite of which is a ballpoint from Pilot. I've been using it for five years now after inheriting it from my mother since I find it so comfortable in my hand. I have another ballpoint pen from Tiffany that I've owned for about the same amount of time, but I only use it because I feel obligated to since it was a present from my wife (laughs). At home I have another silver pen by Cartier that I bought some time ago, but I haven't ever really used it, so it may just be rusting away in its case. It's the same as with my Glenroyal wallet here – if a product doesn't do its job well, then it's not likely to see extended use.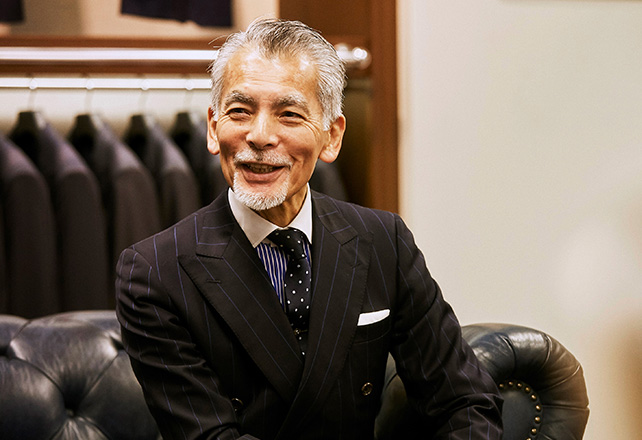 photoTRYOUT textK-suke Matsuda
Mode advisor of Kindware Head store
Eiji Nishihara
Eiji Nishihara was born in 1950. He enrolled in a men's fashion institute after finishing university, and then joined Kindware in 1974. After thirteen years, he moved to a designer brand, where he worked in planning their suits department. Nishihara then returned to Kindware ten years later, where he now acts as a mode advisor at Kindware Head store. He received the grand prize of Danshi Senka's Mr Dandy Award in 2015. He admires Jeremy Hackett and Ralph Lauren.
photoTRYOUT textK-suke Matsuda