No.20
A functional satchel bag for a florist on the go.
Entertainment Florist at "tsuki+"Yukari Fukuhara
The satchel is extremely useful and is a huge help in my work.
Much like a plant, it will stay in good shape as long as it receives proper care.
Yukari Fukuhara is a florist who puts her experience earned training at storied flower shops overseas to work in unconventional arrangements and floral productions. The truth is, she has even lived in the UK, and held workshops at "British Made",  a boutique that carries Glenroyal. Her favourite Glenroyal item is the satchel bag, a model that has proven popular with women across the board. Here we speak with her about the UK, her work, and what she loves about her satchel.
Adding surprises to flowers to transform them into entertainment.
━What type of work does an "entertainment florist" do?
I receive requests from apparel brands or stores and cafes to do make flower arrangements or hold workshops. So, for example, even if I'm doing bouquets, I'll try to do something that draws upon the background of the client, like doing an arrangement that resembles the royal gardens at Kew for a British brand, or something that adds in scraps of old clothes for a vintage store. I like putting my own spin on the keywords my customers give me in order to add a little extra surprise or production to their request, so it's my policy to deliver not just floral arrangements, but entertainment as well.
I also hold "flower education" events for children. I'll go to schools on holidays like Mother's Day, Respect for the Aged Day or Halloween and have the kids make crafts with plants in the hope that they will come to have greater respect for flowers by interacting with them as living things. At the same time, I also try to share the fun of working with flowers with adults through my workshops.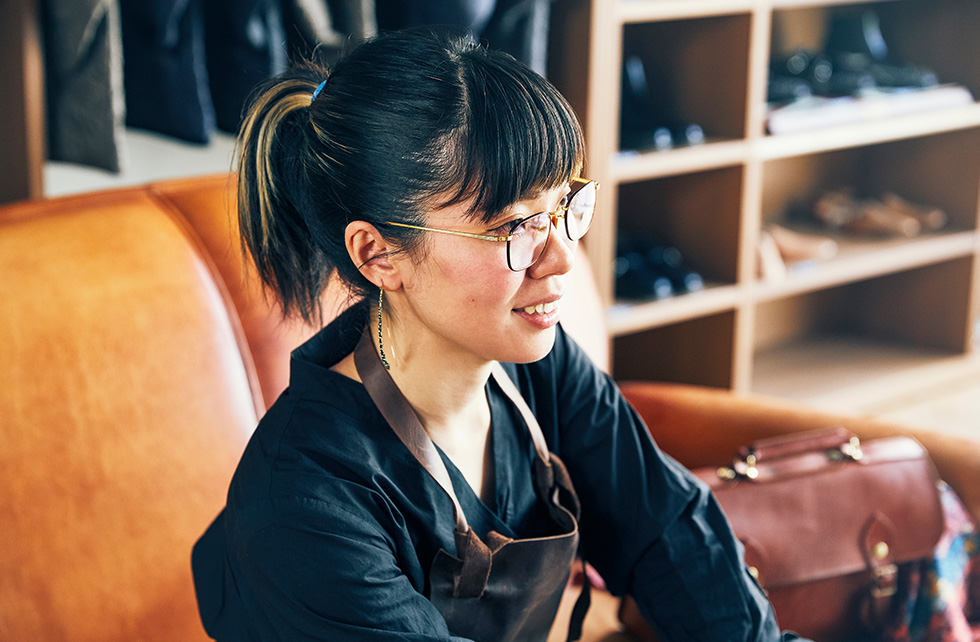 A transition from hotel staff to florist in the hopes of pioneering an original service.
━How did you strike out on your own as a florist?
I used to work at a hotel as a bellhop, so I didn't have much occasion to encounter plants, and never even properly owned any flowers of my own. But, perhaps because the hotel I worked at was known as the top in Japan in terms of wedding events, I had many opportunities to interact with brides on the job. It was over the course of listening to the brides talk about what they wanted in their bouquets that I began to come around to the idea that offering a service in the form of an object could be interesting, too.
I told myself that, if I was going to do this, I may as well take it all the way and use plants to make things no one else can, and thus decided to get a new job at a florist. Probably because it was located in Roppongi, the first florist I worked at had many customers from overseas, as well as several people from Europe on staff as designers. It was through one their introductions that I was able to go to the UK and spend two years training as a florist in London. I then studied more in Paris and Berlin before returning to Japan, where I worked at a company for a bit before finally, at the age of 35, went independent.
A culture with a tradition of maintaining good old-fashioned things.
━You spent time learning your trade in many different countries, but what were impressions of culture in the UK in particular?
To be honest, I was a bit disappointed when I first arrived in London (laughs). I found that a lot of flower arrangement in the UK wasn't very detailed and tended to only use mixes of standard plants, which made me think that maybe I would've been better off studying in Japan. As time went on, though, I began to notice how, when it came to the look of the city, a lot of work went into preserving the old, traditional buildings and streets, and this in turn helped me understand that the people accustomed to living there didn't have much need for striking designs. It's similar with women's fashion there, too. Not everyone is stylish like they are in Paris, but another way of putting it would be that hardly anyone in London dressed alike, in that they weren't caught up in what was trendy. Everyone loved the royal family, and even people in other countries talked about what suits, shoes or bags they were sporting. Experiencing that sort of culture helped me to understand the greatness of having a tradition of cherishing old things that are truly good.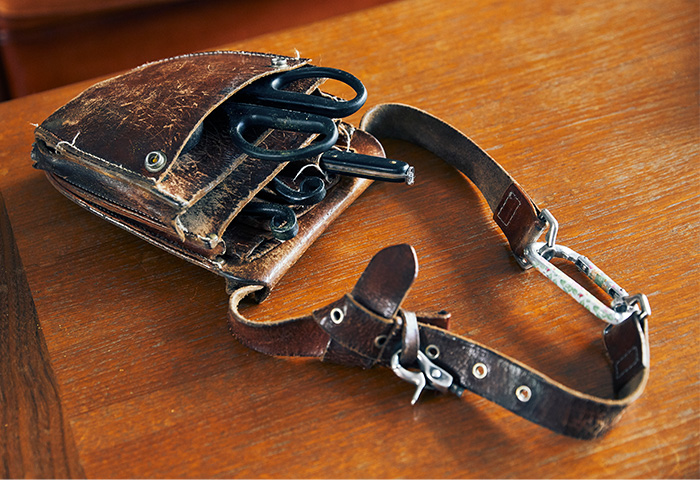 A love for one-of-a-kind things that change over time.
━What are some of your main criteria when choosing products?
My rule of thumb is that if I like something, I'm going to get as much use out of it as possible, regardless of how much it may have cost. I do sometimes pick things based on appearance, but I tend to veer towards quality and items I can use regularly and for a long time. For instance, this case for my scissors that I've been using for over thirteen years now is something I had specially made based on the ones used by hair stylists. I had it repaired once when the stitching came undone, but the hole reopened right away, probably because I'm using to carry scissors.
I eventually used wire reinforce the hole, and continue to use the bag even now. It's old and scuffed up, but I think all of this wear-and-tear is cool and gives it character. Things like this are one-of-a-kind to me, and tend make me grow more attached to them and inspired to use them for as long as I can. It's in this same sense that I like vintage clothes, as well as this duffle coat I've been wearing for over five years that I bought at London Tradition while I was studying abroad in England.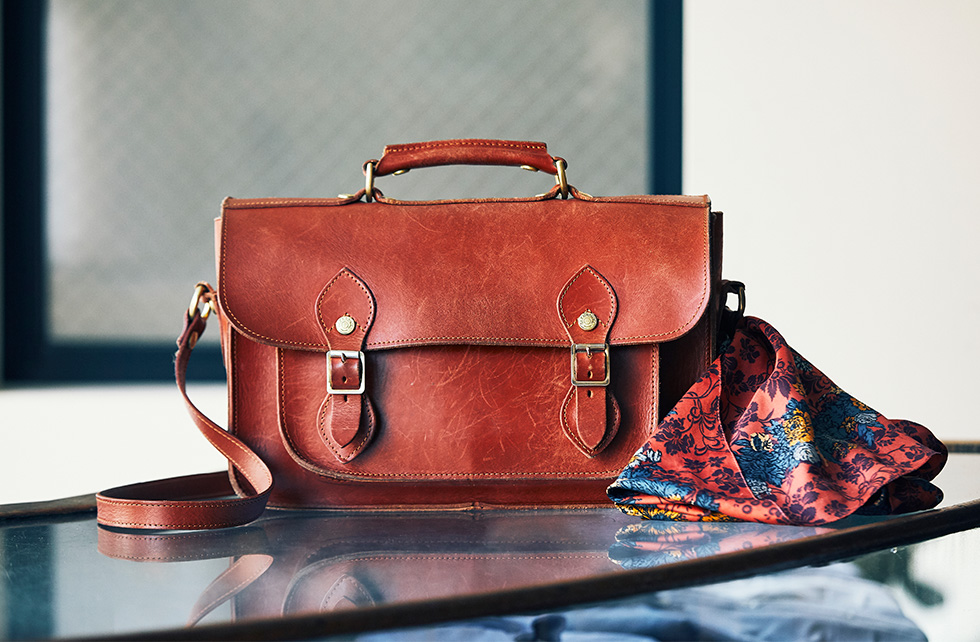 The passion of the Scottish is alive in their craftsmanship.
━How did you discover Glenroyal?
I found out about Glenroyal when I did a workshop at British Made Ginza. I had been part of a kendo club back when I studied in London, and a fellow member that was from Scotland cut quite the powerful figure. I had heard from my friends in London that the Scottish were very diligent, but this person was more intense than I could have imagined (laughs). It was partly for that reason that I started to take an interest in Scotland and actually go there to visit. That's why I was so happy upon returning to Japan to be asked to do a workshop that involved a brand upholds the tradition of industrious Scottish craftsmanship like Glenroyal does.
My work as a florist often involves me using both of my hands at once, as well as going out to buy lots of supplies, so this satchel bag was an easy choice for me since it can hold so much. Truth be told, I've only had it for a year or so, but it has started to get a bit of flavour to it thanks to my using it every day. Owning this bag has helped me reaffirm what's so nice about good, solid products.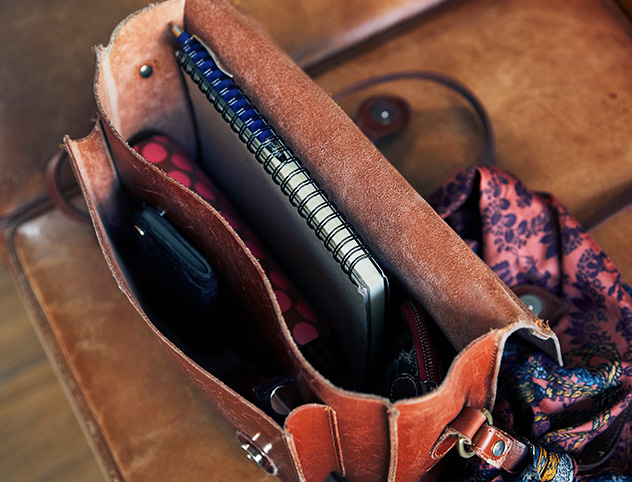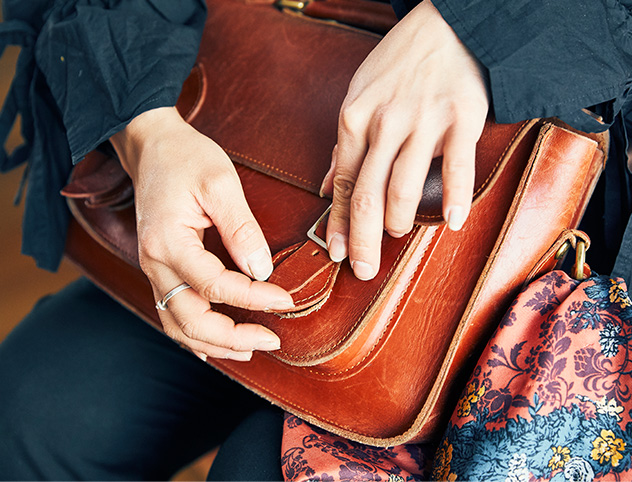 A bag with a traditional look that belies its surpassing performance.
━What were your thoughts when actually started putting the satchel bag to real use?
I like that it can hold the kind of A4-sized files I use in my meetings, as well as 500ml drink bottles. It's also great that it has a side pocket for smaller items like my wallet, iPad, notebook and chargers. The strap on the flap fastens with a magnet, so it's easy to open and close for accessing items, even with one hand. The bridle leather really softened up somewhere along the way and has taken on a shape that fits my hands and body well.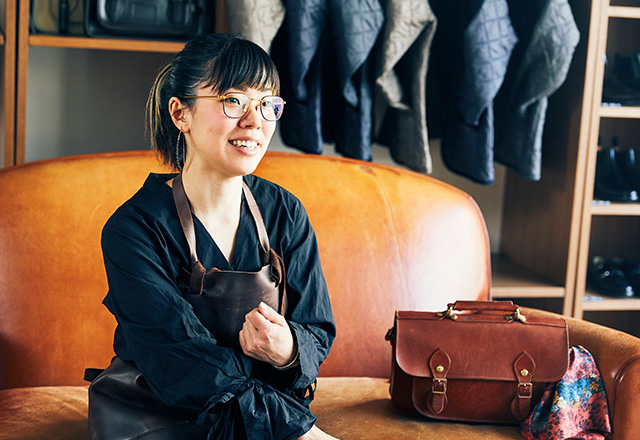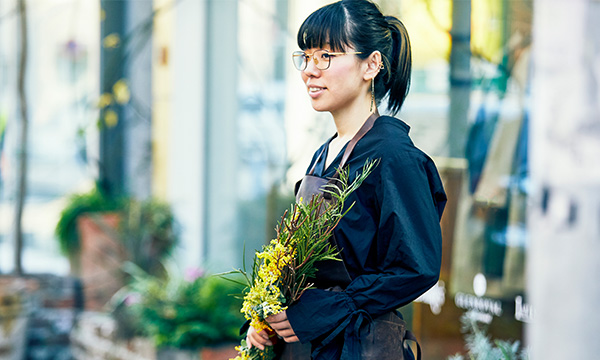 photoTRYOUT textK-suke Matsuda
Entertainment Florist at "tsuki+"
Yukari Fukuhara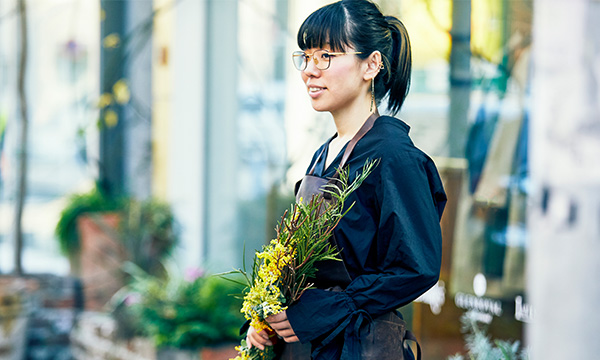 Yukari Fukuhara was born in 1982. After finishing trade school, she joined the team of the Sheraton Grande Tokyo Bay Hotel. In the process of exploring original offerings and surprise presentation, Fukuhara became interested in the idea of an unprecedented service using plants in their capacity as living things, and promptly began working as a florist. After studying with respected flower shops in Tokyo, London, Paris and Berlin, she eventually struck out on her own, where she now does flower arrangement and wedding work while also conducting lessons aimed at teaching children about plants along as well as floral street art.
https://www.instagram.com/tsuki_plus/
photoTRYOUT textK-suke Matsuda