01. INTRODUCTION
Smaller wallets are gaining in popularity recently, but there are few products that are both practical and aesthetically pleasing. Glenroyal's wallet with dividers is elegant, yet also has all the smart versatility a person could want. It's proven to be a popular model that provides its owners with years of service.
02. DETAIL
Thoroughgoing usefulness that melds perfectly into daily life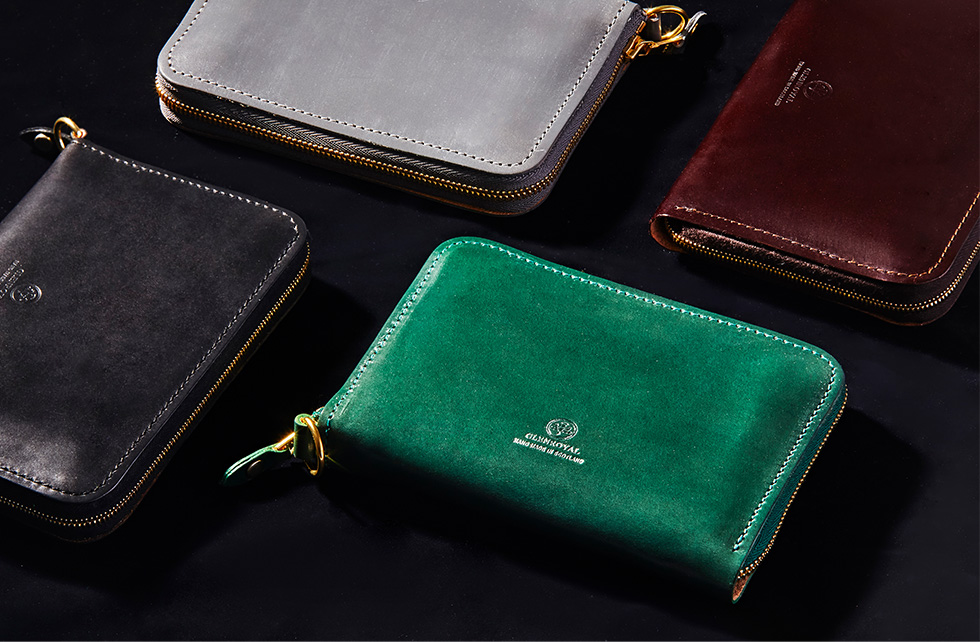 The greatest thing about the wallet with dividers is that, while small enough to fit in the palm of a hand, it has five main pockets, which allows its owner to organize all the bills, coins, cards, and other items they put in it as best suits their lifestyle. Not only can the wallet's contents be separated, but they're also discernible at single glance thanks to the bellows-type design. Coins and other items can be removed in an instant. And naturally the wallet looks stately, too, thanks to the thick bridle leather. The exterior has a flat shape made with a single piece of leather that makes it easy to enjoy the changes it undergoes as it ages. What's more, this is one of the Glenroyal products with the most colour variations, such as grey or bottle green. Its compact size and rounded form make it a great choice for women, as well.

There is a ring for wallet cords on the outside, which are in fact recommended since the wallet fits so smoothly inside pockets. The gold hue of the ring also adds a hint of luxury.

In addition to the five main pockets, there are two card pockets on each side, making it very easy to store bills, coins, and other items in a readily visible manner. The dividers are designed to be tall enough that coins don't slip into other pockets when the zipper is closed, so change scattering won't ever be a concern, even while on the move.
03. HISTORY
Bellows-type wallets which express a particularity about unseen details
The bellows-type design used for the wallet with dividers has a zigzagging structure that connects all of its inner pockets. Aside from its bellows-like appearance, this type of form can expand or contract suit the purpose or use, and is widely seen in musical instruments and industrial products. The term "bellows" is derived from the term "belly", which carries the dual meaning of "stomach" and "to swell". And of course there are actual bellows that use this same type of construction, which supposedly date back to the 15th century B.C. Giving the wallet with dividers a bellows-type design allows it to expand or contract freely according to its contents so that all five of its pockets can be used with taking up any unnecessary space. Though made of bridle leather, the wallet with dividers can carry more than its appearance would imply. Why not make it a new part of your lifestyle? Supervisor: Manabu Nariha Profile Appointed head of the Osaka branch of INFAS Publications, producers of Ryuko Tsushin and WWD-Japan, after stints as an editor and writer for Soen and The Textile Journal. Now lectures at educational institutions and is involved in many other projects such as planning and production for international exhibitions.
04. USER RECOMMENDATION
"I love that it holds more than it looks like it can, and allows me to keep my change organized. I've been using mine for seven years now." (Male, 40s)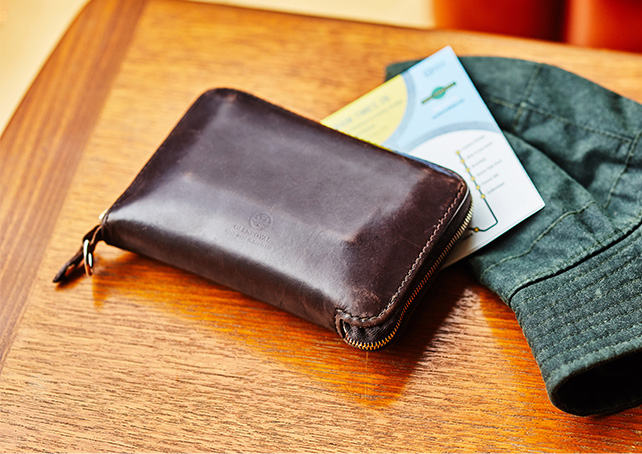 "This is actually my second wallet with dividers, and I've been using it for seven years now since I bought it. The greatest thing about it is how much it holds. I can keep my cards, bills, and coins separate, so it's extremely useful. I can also tell what's inside with a single look when I expand it, which means I never have anything I don't need in there. I like to keep my change divided up by one-yen, five-yen, ten-yen, and higher coins. That way I never have to fumble around for change when shopping, and I also am able to use coins more often, to boot."
"It can easily fit a passport inside, but isn't as bulky as a long wallet." (Male, 30s)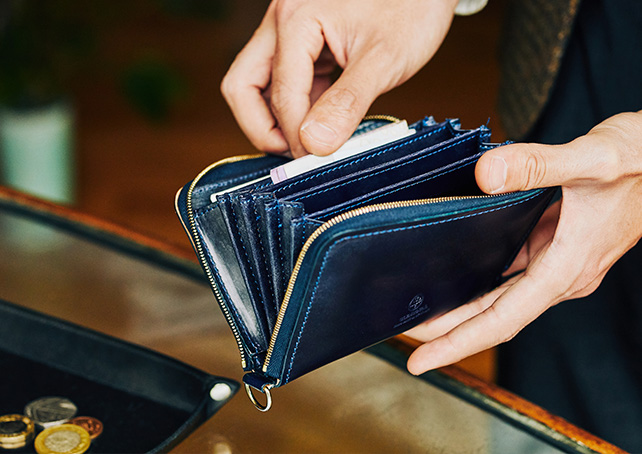 "The carrying capacity of the wallet with dividers is what stands out the most. I can just put in things without giving it much thought, but thanks to it having five pockets I can still keep it organized. Also, I can keep the cards I use most often in the card pockets on either side, so I really feel that a lot of thought was given to versatility in its design. I often go overseas for work, too, and I've become keenly aware of how great this wallet is when visiting multiple countries. I keep my passport in the centre pocket, and Japanese and two types of foreign currency in the pockets to the left and right so I can easily tell them apart. I've never come across another wallet that's so convenient."
05. Q&A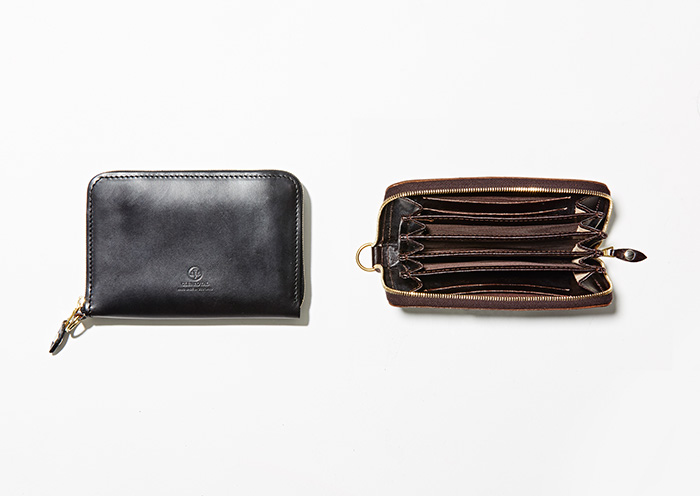 Q. Can it actually hold bills and coins?

A. Bills fit inside nicely if they are folded in half. The dividers of the main pockets have also been designed to be of height that prevents coins from coming loose.
Q. What type of people buy this wallet?

A. Many customers in their 30s and over purchase this wallet to keep in their bags. Recently we are also seeing more women in their 20s and 30s purchase it as well.
Q. Are there any recommended ways of using it?

A. There are four card pockets on each side of the interior, as well as five main pockets. Here is one idea of how to organize the main pockets: Use one pocket for those cards not stored in the card pockets, and another for coins. Put commonly-used 1,000 yen notes in their own pocket, and then 5,000 and 10,000 yen notes in a separate one. The remaining pocket can then be used for receipts. This wallet offers a lot of freedom, so another great thing is that one can always change how they put it use.