No.016
The belt of a photographer deeply impressed by British sensibilities.
Photographer/Food stylistMio Matsuzawa
A belt that goes with anything,
yet undeniably adds to an outfit.
Mio Matsuzawa lives life to the fullest with a free spirit while wearing the two hats of a photographer and a food stylist. It was studying abroad in the UK, which also happens to be the home of Glenroyal, that enabled her to do all of this. We spoke with her about how the UK transformed her values in life and products, as well as her favourite Glenroyal item.
Beset by culture shock in the UK.
━ Tell us how you ended up going to the UK.
I had started working at a studio after I graduated from university in hope of becoming a photographer when a desire to learn the bare minimum of English needed to communicate smoothly with the models from overseas during shoots blossomed in me. So, I made up my mind to try and go abroad to give myself a leg up once I finished my training as a studio hand. As for my destination, I followed my instincts and decided upon the UK.
Once there, I found a photographer to teach me and then began assisting on different projects. I ended up going back and forth between Japan and the UK for the next three years for visa reasons.
Despite the difficulties I faced there, it was much more fun than my time in Japan. Back home I faced a strict hierarchy and didn't have much time for sleep each day. Whereas people just accepted this as part of the working world in Japan, it was the opposite in the UK. I was admonished that it makes everyone tense to have someone pushing themselves so hard. I was truly shocked at how the photographer, models, and all the rest of the staff were on equal footing, and everyone was so relaxed while doing shoots it was almost concerning. And yet at the same time it was really cool how everyone got everything done without affecting quality in the slightest. Being around people living with a free spirit like this helped me realize that it was to be myself, to not be perfect.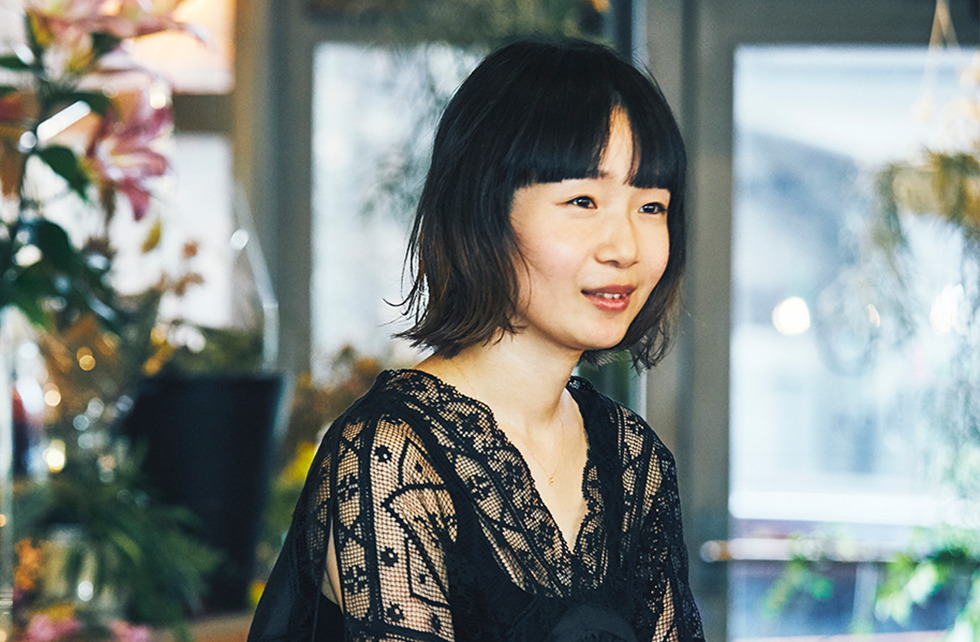 A change of heart from fashion to food.
━ Why did you then embark upon the path of cuisine?
Embarrassingly enough, I was short on money at the time and was taking on pretty much any work I could get, even if it wasn't related to fashion. Because of that I ended up photographing restaurants and food and just basically had more opportunities to see cooks at work in the kitchen first-hand, which increased my interest in cuisine. Part of the reason may also have been that I wasn't making it with fashion alone, and that I came to understand the importance of figuring out how to eat well on a limited budget. It isn't just about the eating, though; it's about the complete arrangement of how the dishes are served and the table is set. I found it all fascinating, and came to realize that I would rather do work that involved food than fashion. Then, when I returned to Japan temporarily, I fell in love with the cooking of a friend's sister at this restaurant in Yoyogi-Uehara called "Shujitsu one". That was how I was put to work from the very next day after I got home, as both a photographer and a cook. While honing my culinary skills I became interested in making sweets, and have now quit Shujitsu one and instead am in training at a nearby patisserie.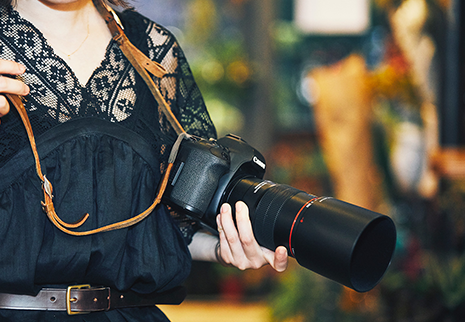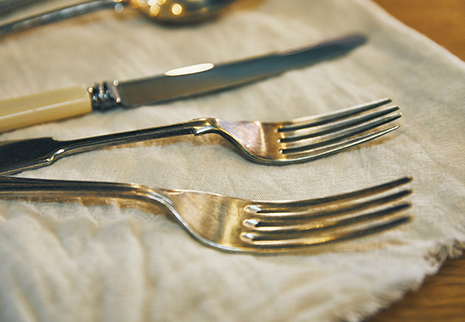 Stories both old and new woven by the products
━ What are your criteria when choosing products?
In the UK it's customary to value old things. An example of this would be how, when rebuilding structures, the government tells people to not demolish everything and instead use the bricks that were there. In Japan we pretty much always tear the entire building down and make something new from scratch, so I found the British sensibility of making sure to keep the good old parts of things around to be wonderful. I would occasionally go antique shopping when I lived in London, and I loved how I could sense the stories of previous owners from details like the initials on silver cutlery. I'm sure they never would have suspected that their previous silverware would end up in the hands of someone from Japan (laughs). The level of painstaking craftsmanship that makes it possible for these items to be passed down like this is also something I find attractive.
I once went to do a shoot at the workshop of Lavenham, one of the UK's leading makers of quilted jackets, and was impressed by how all of the craftsmen there seemed to be enjoying their trade, to the point where they were practically declaring how great their products were. I believe that workmanship you want to show off to those around you is what carries over to later generations and creates new stories.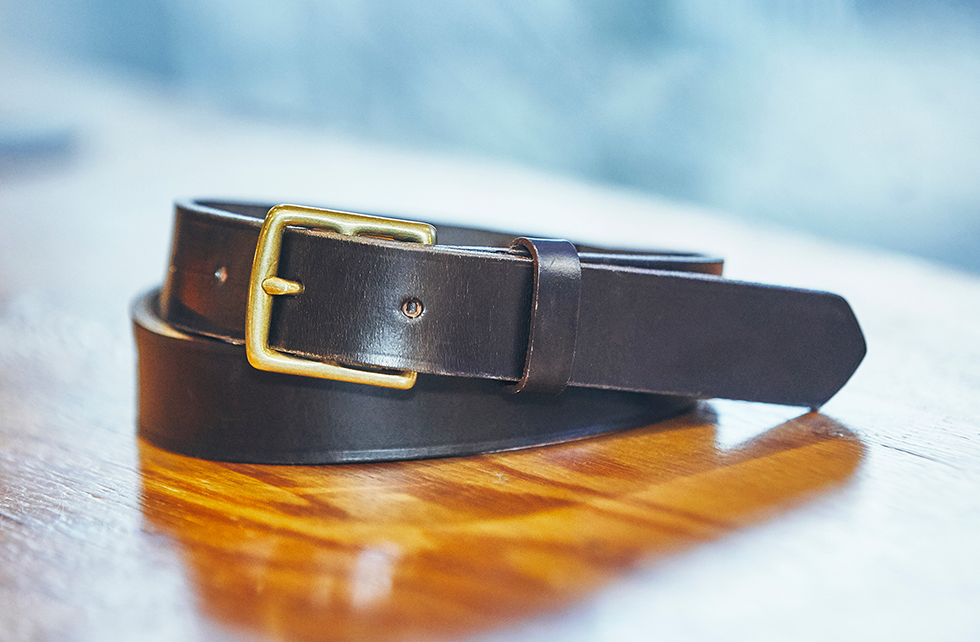 A belt that adds to an outfit.
━ What do you love about your favourite Glenroyal item?
I've been wearing this like crazy ever since I found it a year or so ago. The design itself is quite simple, which makes it easy to coordinate with any style. Meanwhile, the distinct sheen of the bridle leather looks sharp and adds something to the outfit. In my line of work I usually wear a t-shirt with easy pants, but on those occasions at shoots where I'll be meeting with clients and need to dress up this belt is always my go-to. Simply having it on gives me that boost of class needed when I can't be too casual (laughs). I often move around on the job even when not doing shoots, so it being made of thick and tough bridle leather means I don't have to worry about it breaking. Personally, I like to treat it a bit roughly because, like British people, a little bit of wear and tear doesn't bother me overly much.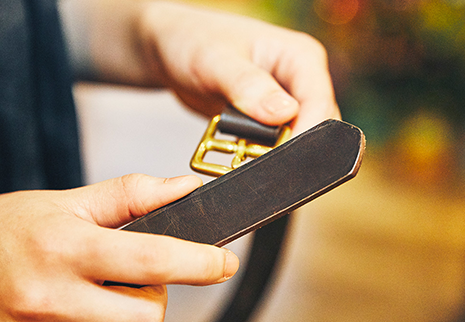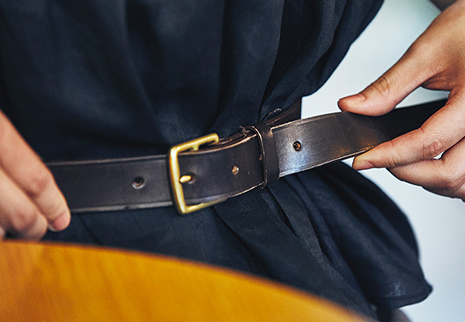 Heading to France for even more training.
━ What are your plans for the future?
In the immediate future, I'm planning to go to France to study baking. France is another country like the UK that cares about things from yesteryear, so I'm looking forward to some of the flea markets there for antiques. Once I get back to Japan I'm going to open my own shop serving mainly sweets and other things I like.
The truth is that owning my own shop has been a dream of mine since the time I lived in England. I want to create a community hub where everyone from old ladies in the neighbourhood to people visiting Japan from abroad can gather. I will continue working as a photographer, only now I'll be able to repay some of the studios I worked with in the past by supplying them with food and sweets as catering. I'm only getting started in the world of cuisine, but I'm going to keep working my hardest!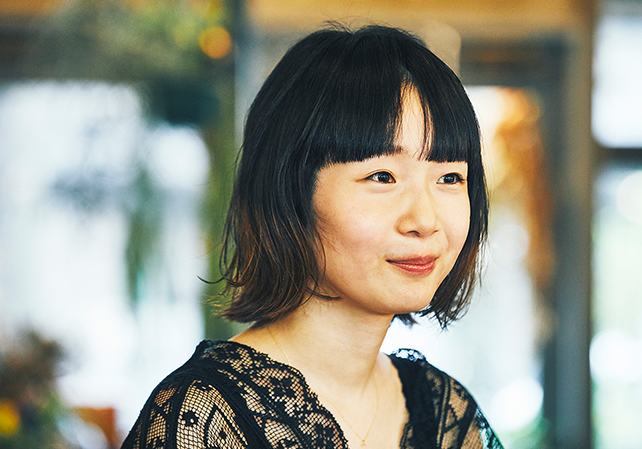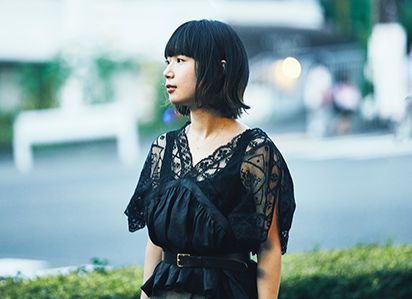 photoTRYOUT textK-suke Matsuda
Photographer/Food stylist
Mio Matsuzawa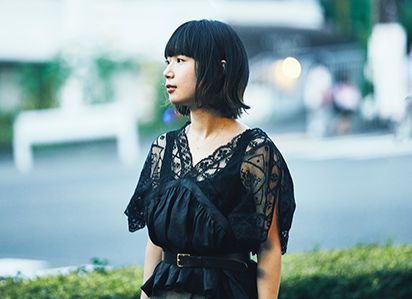 Born in 1987. Joined Roppongi Studio after graduating from university.
Honed her photographic skills while working as studio staff. Journeyed to the UK at the age of 24 to study fashion photography, only to become more interested in food as she worked. Studied cooking upon returning to Japan at the restaurant "Shujitsu one". Now employed at a patisserie in Yoyogi-Uehara to learn baking. Also engaged in many forms of media as a photographer and food stylist.
https://miomatsuzawa.com
special thanks:Shujitsu one
photoTRYOUT textK-suke Matsuda