No.23
An ideal glasses case that fulfilled the wishes of a designer living between Okinawa and Tokyo.
Designer at LuftNami Makishi
It's the optimal size for holding a pair of both glasses and sunglasses.
In fact, I actually changed the size of my eyewear to fit it.
Aside from working as a spatial designer at the firm Luft, Nami Makishi also does product design and acts as the producer of the shop D&DEPARTMENT OKINAWA. Based in both Tokyo and Okinawa, she is often on the move, and apparently never fails to keep her Glenroyal glasses case in her bag. Here we have Nami speak with us about her career, how she chooses items for herself, and what she loves about her glasses case.
Each project leads to new work.
━Tell us about your current projects.
I mainly do furniture and spatial design. I occasionally do product design as well, but I would say the ratio of that is only about 10 percent. I haven't really studied the foundations of product design, and thus don't know all the theory on "the way things should be". That's why I think most of the people who do come asking me to design products are looking for more "outside of the box" ideas. What makes me happy, though, is that regardless of whether I'm doing spaces or products, people who have seen my work come with requests, which in turn leads to new projects. The shop D&DEPARTMENT OKINAWA that I produce is one example of something that started in that manner. Back when I was involved in an architecture project called "Okinawa Standard", Kenmei Nagaoka (the president of the D&DEPARTMENT project) saw the model of the space I made and paid me a visit at my office in Tokyo. There he saw the prototype "Lauan shelves" I designed, which led to him deciding to carry them at D&DEPARTMENT. We built up a working relationship from there, and eventually established D&DEPARTMENT OKINAWA.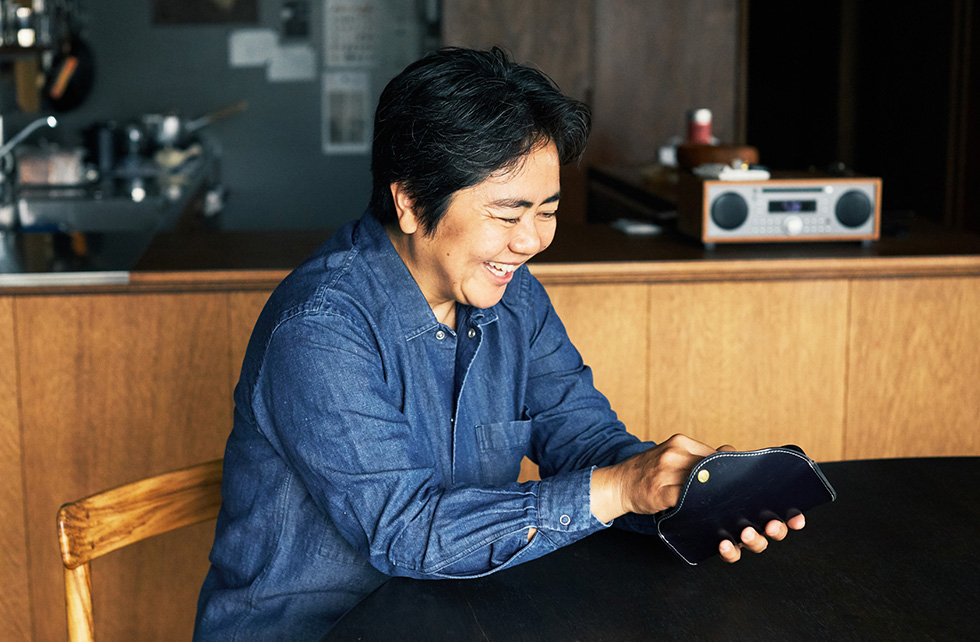 Coming up with excellent designs through communication with others.
━Do you have any particular policies when designing?
I value my relationship and encounters with the people in charge of the project more than the client company itself. I generally work on more small-scale projects, so most of my commissions tend to come from directly from individual designers or the owners of cafes and restaurants. I'm seeing more and more projects where they place their trust in me and we then create something together, so I've begun to think harder about each particular client's nature and what it is they're hoping to receive from me. Things will usually go well if we identify with each other as we work.
One of my longest clients is Jurgen Lehl. He passed away, sadly, but even after his death I have been working in close communication with his business partner of many years. In the past I used to find it difficult to compromise to their demands, but thanks to this change I've recently been able to find the pleasure in accepting each project as a fresh challenge. My motto when designing is to first assess the situation, paring down the excess so I can see the core essentials, as well as to "not overdo things". From there I strive to utilize the demands of the client in achieving a result that exceeds expectations.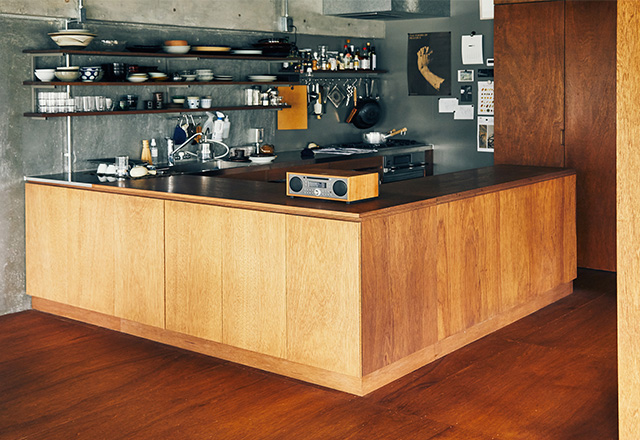 Living between two cities creates a feeling of ease
━What do you enjoy most about being based in both Tokyo and Okinawa?
Truthfully I'd like to spend about 75 percent of my time in Okinawa and 25 percent in Tokyo, but for the moment it's still about half and half. My goal from the outset has been to eventually work in Okinawa, so for the past four years I've gradually been increasing the number of projects I take on there. My workload when I was working mainly in Tokyo had grown very hectic, and I began to feel that at this rate I wasn't going to be able to fully devote myself to each project. I don't like feeling bogged down like that, so I switched up how I did things. I had spent a fairly decent amount of time living in Berlin and Seoul as well, so I think perhaps a work style where I move around a lot not tied too much to any one city suits me better.
Since then I've forgone setting up a quote unquote "proper office" and instead been based out of a home office setting in both Tokyo and Okinawa. I still end up pretty much working all the time when I go back to Okinawa, but I feel like I've learned how to relax a little more, perhaps because time flows at a different speed there. Lately I think I've gotten the hang of taking things easier even when I'm in Tokyo, too (laughs). It used to be that I couldn't think of anything else but work while I was there, but maybe spending half of each month in Okinawa has given me enough mental leeway to where I'm able to wrap up my meetings early and then go grab a drink with friends.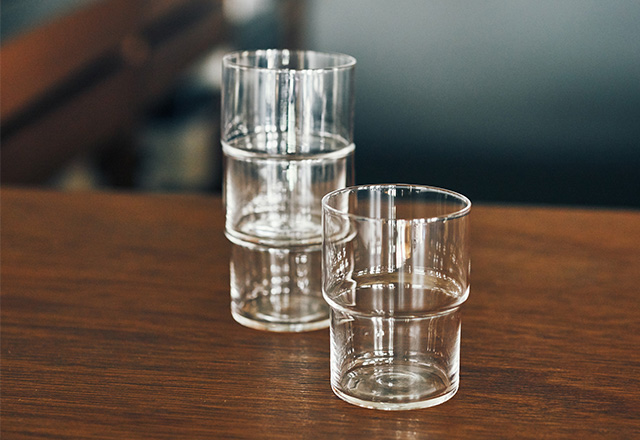 A preference for items with functional beauty that will last for a long time
━What's important to you when choosing a product?
This is a common answer, but the product that is not boring. I try to choose things that I will still love after a long time, even if it is not special. I've pretty much dressed and done my hair the same since my high school days, and my friends are always remarking on how I never change. I love modern art, so I guess that's the only place I look to for excitement (laughs). And I think that's also precisely why when I do choose products, I end up going with things that are very middle-of-the-road. Instead of flashy designs, I'll choose something that serves its necessary function in life while still looking nice a few years down the road. This line of thinking carries over to my design work as well, which can be seen in these drinking glasses I made with Kimura Glass. I took the basic sort of drinking glass often used in restaurants and redesigned it so that the innate beauty of glass as a material comes to the forefront. I named this design "Water Glass" since that's what I imagined the glasses would most likely be used for, but I also hoped that people would feel like they use them however they wanted with beer, wine and so on, too.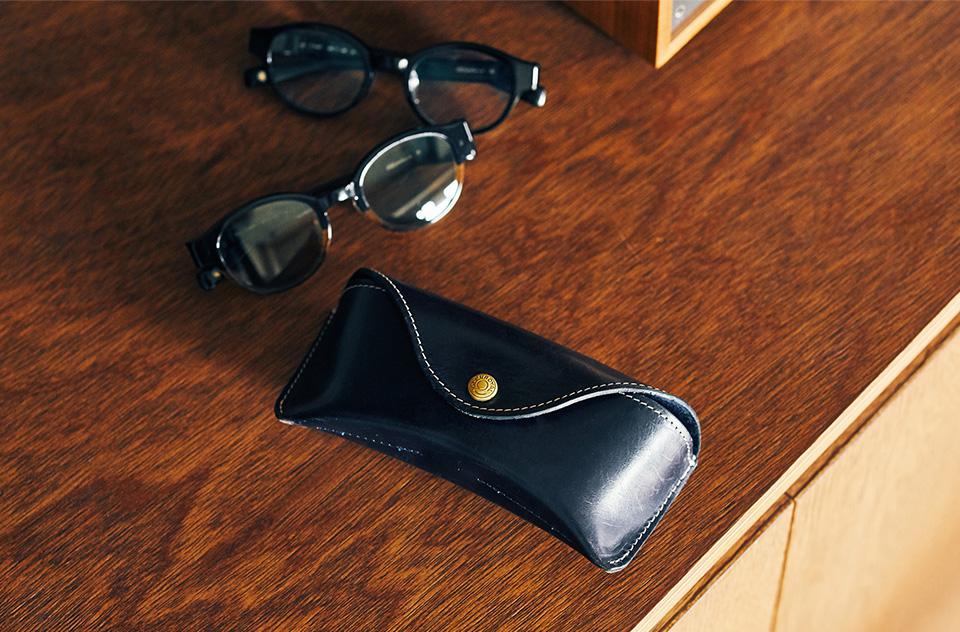 A case so perfect it prompted a change in eyewear size.
━Why did you choose this glasses case by Glenroyal?
I bought it two years ago in British Made Aoyama. Up to that point I had always used the cases that came with my glasses when I bought them, but they all tended to break after about a year since I travelled so much and was always using them during meetings. On top of that, since I always carried both my regular glasses and sunglasses with me, I was going to the extra trouble of finding models with smaller frames so that I could stuff them both in one case without taking up too much space (laughs).
That's why I was so impressed when I came across this glasses case. The first thing that struck was the quality of the leather. I've put it through a lot of hard use these past two years, and yet it's so sturdy that it hasn't shown any sign of breaking. It's a truly tough case, so I can rest safe in knowing I'll still be able to use it 10 or 20 years down the road. But, the thing I love most about it is the size. This may not be the way it was intended to be used, but I can fit both my glasses and my sunglasses in this case easily. And because of that, I've been able to start using glasses with larger frames (laughs).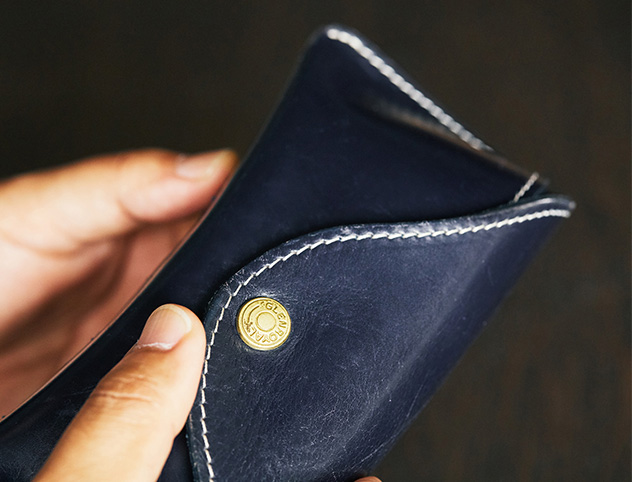 Minimal yet beautiful designs that exude the spirit of the UK.
━
Despite the fact that Glenroyal products all have a sense of austere strength in the way they're made, this glasses case struck me as being rather refined. Usually I go with black for all of my accessories, but this time I chose to go with navy blue since it had more that chic UK feel to it. I love that it has a basic design with no extra frills that allows the texture and details of the traditional bridle leather to stand out. The choice of material, form and method of production all make such effortless sense. I believe that harmony between all these elements without any one in particular standing out too much is what personifies the character of products from the UK.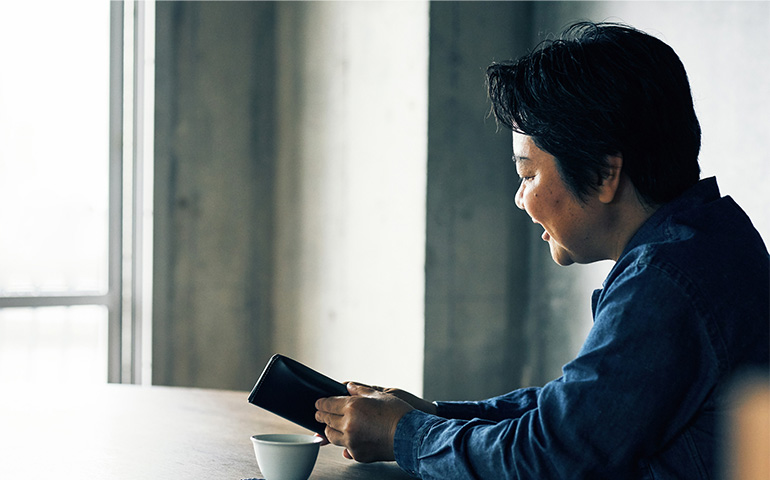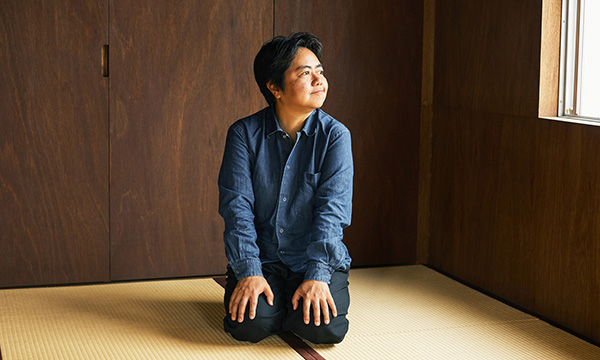 photoTRYOUT textK-suke Matsuda
Designer at Luft
Nami Makishi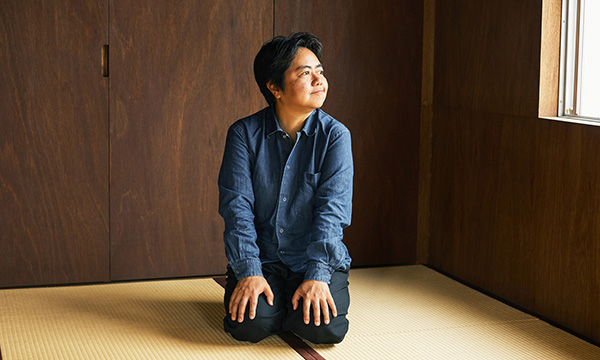 Nami Makishi was born in Okinawa in 1966. After graduating with a degree in Industrial, Interior and Craft Design from Musashino Art University, she went to study sculpture at the Graduate school of the Berlin University of the Arts before working at a design office in Seoul before opening her own firm in the same city in 1999. After returning to Japan in 2003, she worked on many spatial design projects for clients like Jurgen Lehl, starnet / tokyo and minä perhonen / materiaali || elävä. Her product design portfolio includes the Envelope series, the Lauan Shelves, the Tenkei Project and the Water Glass for Kimura Glass Co. She also works in co-development with Okinawa manufacturers as the producer of D&DEPARTMENT OKINAWA.
photoTRYOUT textK-suke Matsuda