No.017
The favourite wallet with money clip of
the fresh young press of a select shop.
Tatenori Kouno, SHIPS Press
Stylists and writers often compliment me
on how the pressure marks in the leather look.
Ever since he was young, Tatenori Kouno had to give presentations on what he liked about things he wanted as part of a "special education" from his father. This intensified his interest in apparel, and eventually led him to join SHIPS, a select shop that puts stock in the background and culture of its products. After working in the casual and formalwear departments, he arrived at his present position doing PR for the company's projects and clothing. Here we speak with Mr. Kouno about his Glenroyal wallet with money clip that purchased around five years ago and claims to be the first item he fell in love with, along with what he is particular about when it comes to products.
Days spent sharpening skills while asked about styling themes.
━ How did you end up doing press?
I joined up at SHIPS as a graduate fresh out of college, and this will be my fourth year there. At first I worked at the Yokohama store, and then later was placed in charge of sales in the formalwear department of the Ebisu branch. Every time I came to work, one of the older guys would ask me about the theme of my outfit, a question that at first I absolutely could not answer. For example, the questions would go like "Why are you wearing this shirt with this suit and this tie? What's the overall theme here?" and then when I had nothing to say in response, he'd tell me to try better next time. It got to be where I dreaded this moment, to the point where several times where I slid through by saying my look was based on the movie The Great Gatsby (laughs). Thinking back on it, though, being put to the question like that helped sharpen my knowledge and sense when it comes to apparel. After countless days of this training, I finally got my wish when I was moved to a press position in March of this year. I had had some interaction with the older guys in the press department since I joined the company and had heard about their duties when we would go out for drinks, so I was pretty much able to hit the ground running when I got there. One thing I now understand from experience, though, is that while PR may seem flashy and fun, the work is actually pretty unglamorous (laughs).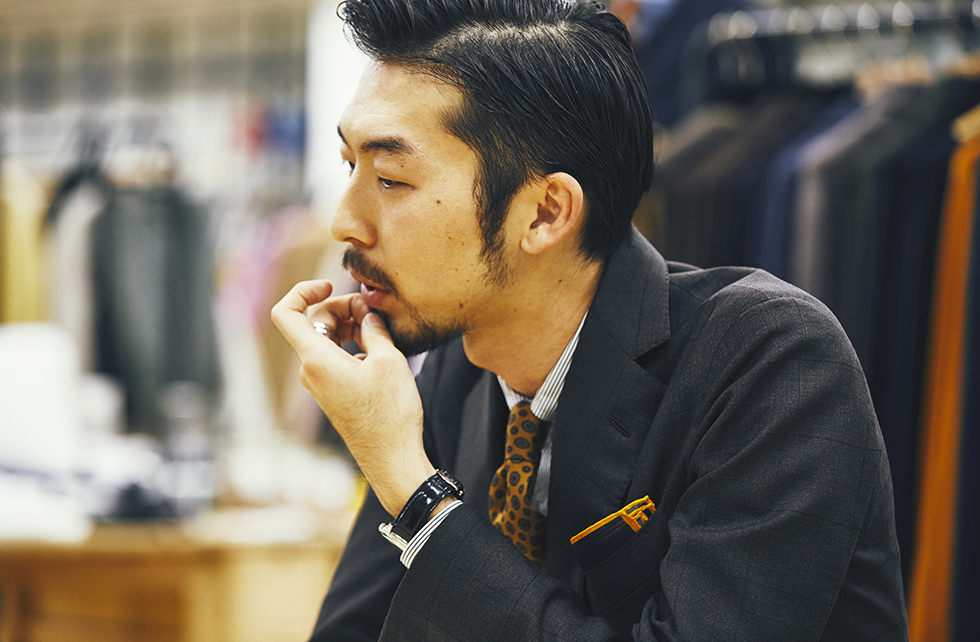 Universal appeal is what makes British brands great.
━ What kind of position do brands from the UK occupy at SHIPS?
Our customers include many of advanced years who have been patrons since SHIPS first opened its doors. I get the impression that more than a few of these folks are particularly fond of products made in the United Kingdom. An example of what I mean would be how if we use British textiles in one of our own items, we get responses to the tune of "Oh, you got the fabric from there? Well done." We have people that eagerly await our specially-commissioned outers from Lavenham each season as well. We're also doing a version of the "Ashington" that proved so popular this spring-summer season again in a different fabric for autumn-winter, and even at the pre-order stage we've seen a lively response from our customers. When I think of all this, I would have to say that many British brands constitute what could be considered the true "standard" at SHIPS. It's that universal appeal they have that allows them continue being fan favourites over the years.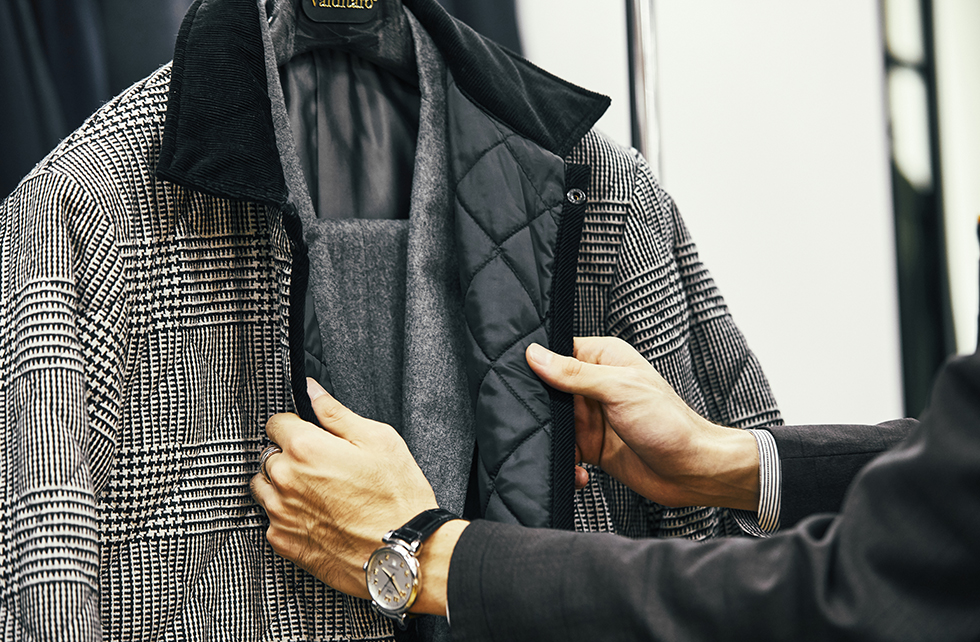 The importance of asking yourself why you want something.
━ What's a valuable viewpoint to have when selecting products?
Part of the education my father gave me as a child was that whenever I wanted him to buy me something, I had to make a presentation on what was so great about it. I even had to explain why I wanted the presents I was asking Santa for on Christmas despite it only coming once a year (laughs). Still, that way of thinking has proven beneficial to me now in that I make sure to do background research on products once they have caught my interest. With suits for instance, I think about where they were made, about their fabric and tailoring. And if there is something I don't know, then I make sure to ask someone who does. If I still think a product is worthwhile after all of that, then I'll buy it. So, I almost never make any half-hearted purchases, and instead make it a policy to only put my money down for something after clarifying exactly why I want it.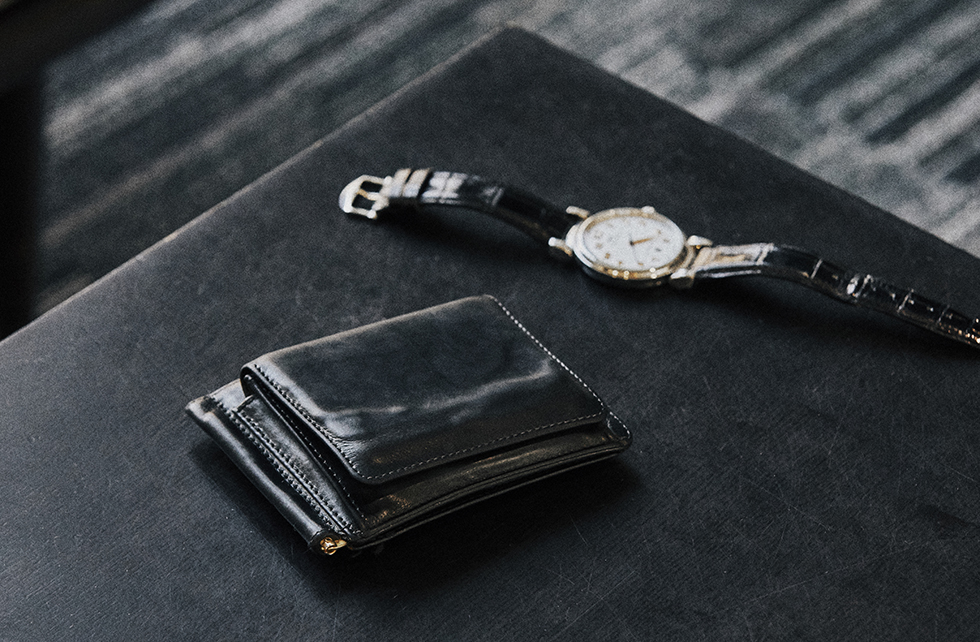 The enjoyment of the aging process only premium leather can offer.
━ How did you discover Glenroyal?
I bought this wallet around five years ago. I had been using a long wallet prior to that, but began to want something more compact, and on top of that was interested in getting one with a money clip. I was looking at my options when I came across this Glenroyal model and instantly knew it was the one. I love the two-tone colour scheme, and having a money clip means that I can use the wallet in a neat manner and not fill it up with receipts and point cards. It's made of tough bridle leather, too, so it's still in great shape even after five years. I often get complemented by stylists and writers on how cool the impressions left in the leather are. I think it's safe to say that the wallet would not have aged so beautifully if it weren't made of high-grade bridle leather. I'm definitely not applying regular maintenance to it, either. The fact that just rubbing down any spots that I notice by hand is enough to keep it smooth really drives home how hardy it is. I've never used the same wallet for five years before, so I can say that this is the first time I've been so attached to one. The size is just right, and it fits my lifestyle perfectly.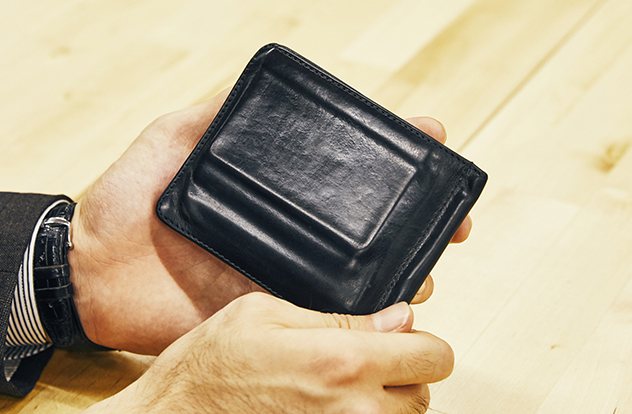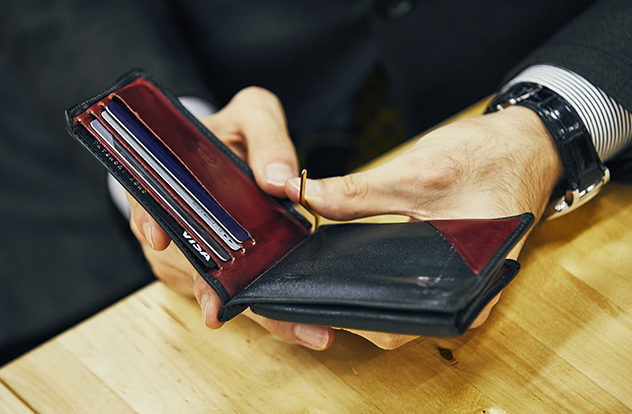 A preference for ball-point pens and leather shoes from the UK.
━ Are there any products from other made-in-the-UK brands besides Glenroyal that you have used for many years?
For seven or eight years now I've been using a ball-point pen called the "Edwardian" from a brand by the name of Yard-O-Led that I received from my father as present for my coming-of-age day. I remember how impressive it looked to me back when I graduated from high school when I saw it used for signatures at a certain shop. I thought it was so cool when he removed the pen from its heavy-duty case and told me to use it. I haven't polished it even once, but I still love the nice, dull look of the silver. Many of my leather shoes are also from British labels. I have two pairs by Church's, one pair from John Lobb, and then three or four pairs from Crockett & Jones, all of which I've worn for many years.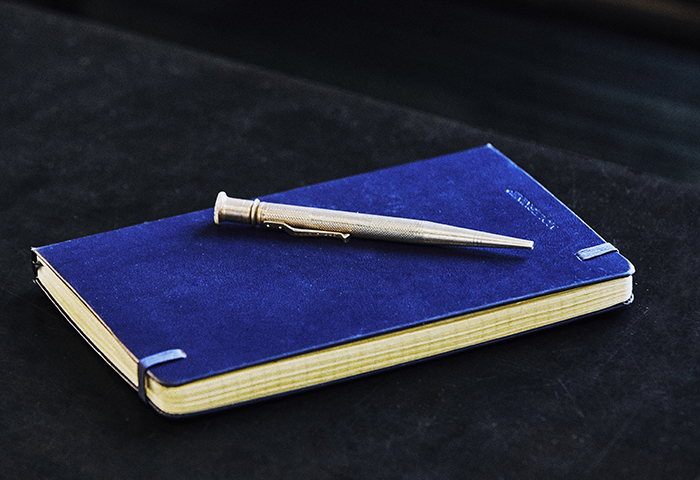 A better fit for classic brands than playful ones.
━ What kind of styles would you recommend pairing Glenroyal with?
This goes back to that "theme of today's look" I mentioned earlier, but there's a theory about coordinating one's clothing by country. Like how adding a single American item to an outfit that consists entirely of Italian brands will throw off the balance, for instance. That said, in recent years even those kinds of mixes are becoming acceptable and in tune with the times. However, personally I think that when dealing with classic labels like Lavenham or Glenroyal, it looks better to stick with items made in the same place.
Let's say you saw someone in an outfit composed of a flannel suit by Fox Brothers, an umbrella by Fox Umbrellas, a leather item from Glenroyal, and leather shoes from John Lobb or Edward Green. From head to toe, you wouldn't be able to tear your eyes away from them (laughs). I believe that brands with history such as Glenroyal simply work best with items from labels that possess a similar background and austere, forthright nature.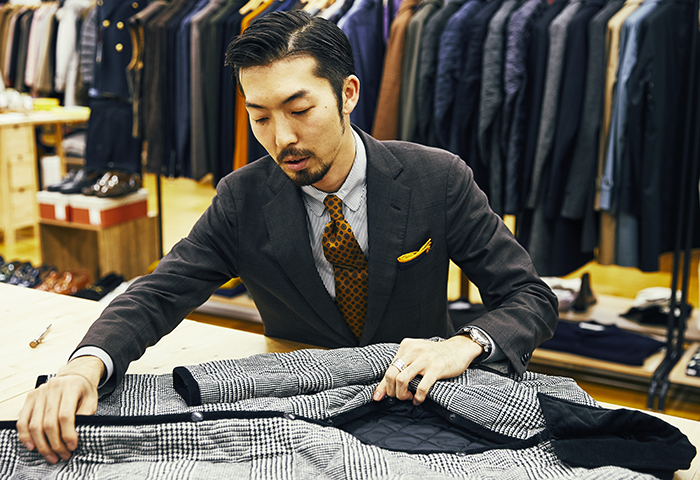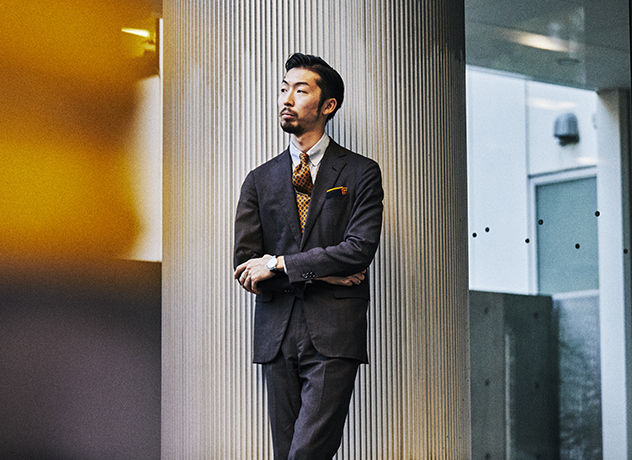 photoTRYOUT textK-suke Matsuda
Tatenori Kouno
SHIPS Press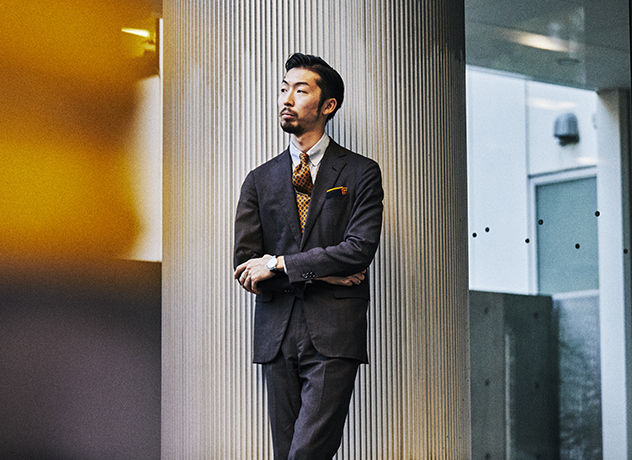 Born in 1991. Joined SHIPS upon completing university. Was appointed to his long-desired press position in March 2018 after working sales in the formalwear departments of the Yokohama and Ebisu branches. Currently working diligently doing PR for the casual and dress departments. Building upon his love of football and golf, he has recently been obsessed with footgolf. With relatively few players of the sport as of yet, he secretly hopes to join the Japanese national team.
photoTRYOUT textK-suke Matsuda