ITEM 003
Briefcase
A bag for carrying briefs (documents). A general term that includes Dulles bags and attaché cases which refers to box-shaped bags with handles.
Briefcases have fasteners or flaps for protecting documents from the elements, and are generally made from leather. Many brands choose bridle leather from the UK with in business settings in mind since it has a classy, even surface and is tough enough to withstand heavy use. However, versions in weather-resistant nylon, or combinations of nylon and leather, also exist today.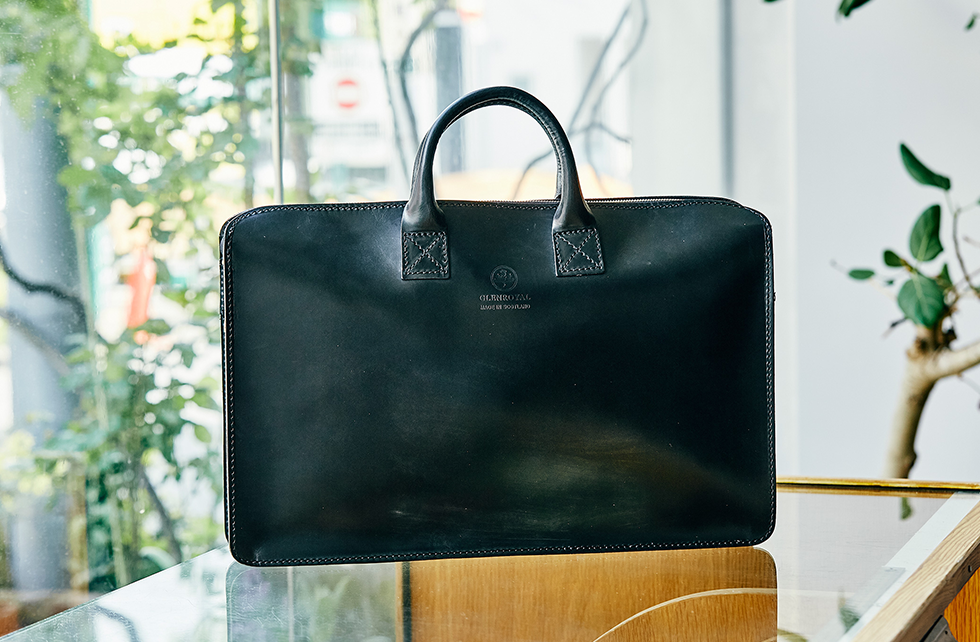 A bag can take centre stage today.
Briefcases enhance an outfit.
Using knowledge accumulated during
his time as the editor of a men's fashion magazine,
Hiroshi Morioka continues to share the importance of style through a variety of projects.
We speak with this figure so versed in all manner of fashion from mode to formal wear about
what makes briefcases so great.
Fashion director/stylist
Hiroshi Morioka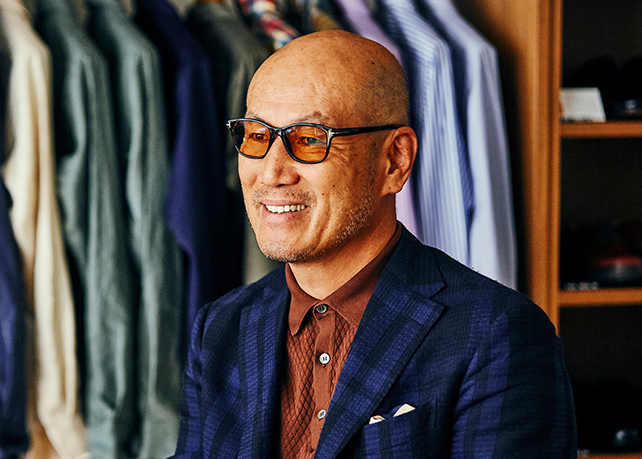 Just as with clothing, it's important to have the right bag for the occasion.
━ What makes leather briefcases so great?
Today, hats, eyewear, and even bags are taking on something akin to a central role beyond mere "fashion accessories". When one considers this, using a bag to apply the final touch when building an outfit also become important. Even among my clients there are more than a few cases where what would otherwise be a perfect suit is ruined by their choice of bag. A bag is another presentation tool for expressing oneself, so simply carrying something smart can add style. Nowadays you can see even businesspeople using nylon briefcases or backpacks, but bring that kind of bag to a high profile meeting and you are without a doubt going to be taken lightly. So, in that sense it can be said that a leather briefcase enhances your appearance.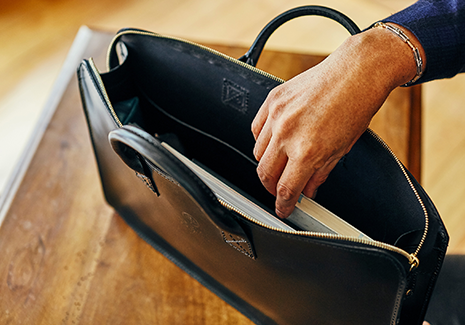 For example, there are some executives who, depending on the times, preferred tight-fitting suits. If a suit is too tight, though, it may be stylish, but it won't make the wearer appear reliable or dignified. If intelligence, refinement, and a sense of security are what you desire in your outfit, then most likely you won't be ending up there. In the same way, I think that while nylon bags or backpacks are cool and useful, they aren't always appropriate for the situation. Sure, there is the line of thought out there that lugging something heavy around is pain or it's easier to carry a bag on one's shoulders, but I believe it's best to keep how you will be perceived in mind, along with the time, place, and occasion. There are no real rules about all this, of course; however, there are certain impressions that are universal, which makes it important to be aware of how you appear to others.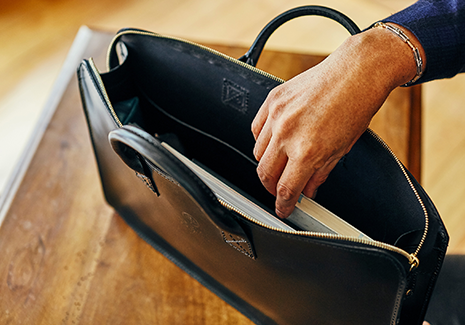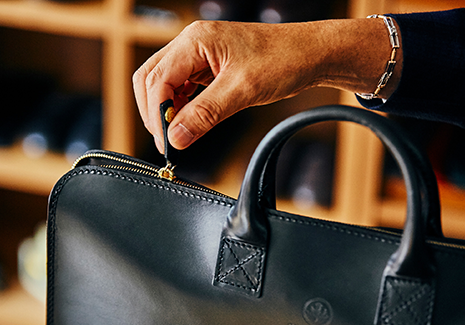 The higher the level of entry,
the greater the partner.
━ What are your thoughts on Glenroyal?
It goes without saying that in a man's world possessing items that artisans have poured their souls into is one means of filling us with fighting spirit or instilling self-confidence. It is in that sense that I feel Glenroyal has a "high level of entry" in the good meaning of the phrase in that it is a brand which adheres to an unaffected and sincere craftsmanship that is beloved by those who see things as they really are. It is precisely because they are items that can be used frequently over an extended period that Glenroyal products are works of art that one cares for them diligently and grows alongside them rather than neglects them. They aren't at their best when initially purchased so much as after they have spent years together with their owner. I guess what it comes down to is that a man's possessions are his partners in a way, so putting them to careful use becomes important as well in portraying a sense of stability. A well-cared-for bag speaks volumes of its owner's ability to conduct business in a thoughtful manner. That is why I believe an unpretentiously high level of entry is necessary. This is the sense in which I feel Glenroyal is a brand that one needs to invest a bit of oneself into living up to once purchased.
Surprisingly light despite a solid appearance.
━ What do you like about Glenroyal briefcases?
I think the most appealing thing to me is how light they are. Being heavy is a bottleneck for all products in this day and age. Whether it's coats or suits, "looking heavy but in truth being lightweight" is mainstream. An example would be the way in which there are more products like those British coats made of sturdy fabric with sense of weight to it that are in fact quite thin and supple once worn. It used to be that briefcases were hefty, and became even more so when carrying something. This briefcase here, however, has lightness when taken in hand that belies its atmosphere of sturdiness and class. The way in which Glenroyal manages to keep up with the present in terms of performance and ease of use while maintaining the same appearance and dedication to made-in-Britain craftsmanship using traditional materials like bridle leather is truly wonderful.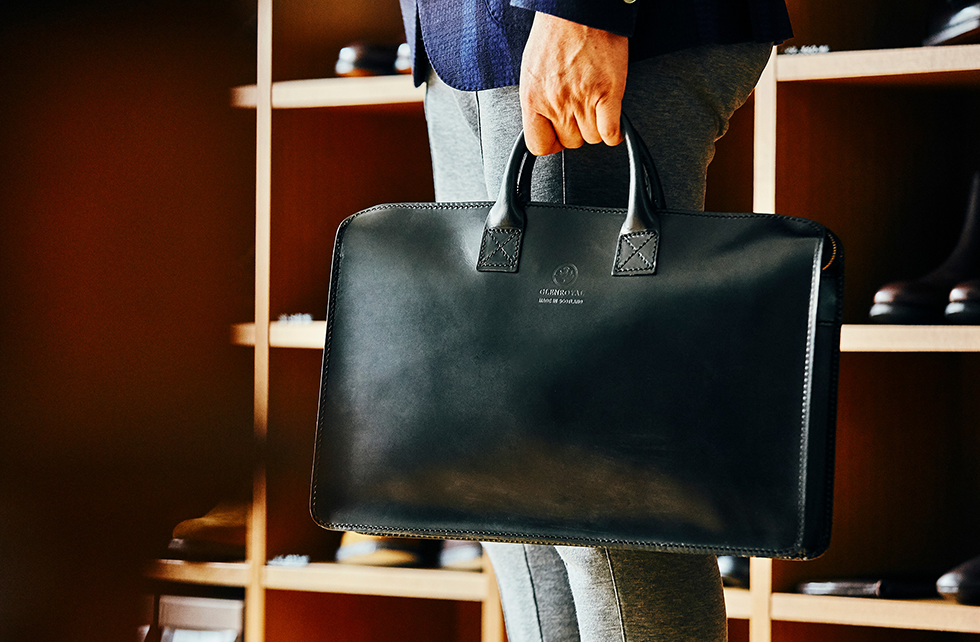 From an editor to the ultimate jack of all trades.
━ Describe your current work style for us.
I honestly have no idea when it comes to the direction of what I do (laughs). I have been advised that I would be better off adding more clarity to my vision, but I'm simply happy if people come to me thinking it would be interesting to have me handle their projects. I began my career as an editor at the magazine Men's Club, and from there grew to become a stylist. In the process of doing this and that, I ended up making uniforms for the airline Star Flyer, producing and publishing catalogues, as well as speaking at lectures and talk shows. And of course I do styling for celebrities and magazines. I pretty much arrived at where I am now by helping fulfil all the various needs people have today. The truth is, however, that I am always uneasy, as there are no projects that I approach with 100 percent confidence.
That's the reason why I strive to work carefully so that I don't end up growing complacent. My past as an editor lives on, with what is demanded of me changing depending on the audience. I understand the correct answer varies by the setting in which the proposal is being made. It's easy to think "Oh this is best for the way things are now" from a stylist's perspective, but in my head I'm still an editor, which is why I suggest things only after hearing the goal, and what's more am not stressed in the least if my idea doesn't happen to work out. What's "creative" and what's "real" are growing closer than ever today, so we are seeing more instances where there isn't much point in going it alone creatively. It's in that sense that I think people like myself are needed.
The importance of being aware of many things.
━ What do you keep in mind in order to do good work?
Perhaps not allowing myself to become caught up in stereotypes or fixed notions. I feel it's vital to be aware of the many different scenes that exist in daily life. Let's say for example that I go to a resort and think that the combination of the colours of the sky and sea and the flowers blooming there are beautiful. Then when I'm looking to add an extra something to my outfit, I wonder how it would look if I threw in those colours from back at the resort. That would expand the range of colour options I have to choose from, right? I look at photo collections and keep an eye out for stylish people around town. I go to popular shops.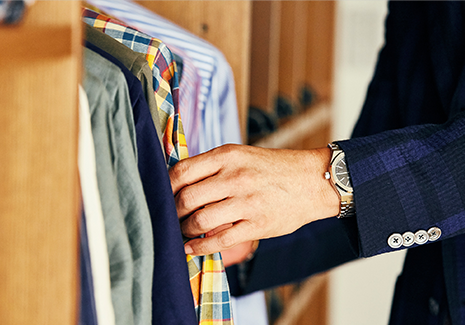 I believe it's important to pick up on lots of things in daily life like this, even if it's just being the tiniest bit impressed. The unexpected thing is that those feelings tend to linger for years at a time. Honestly, the worst thing you can do is disregard things. There are times where I end up finding that I like the opposite of something I didn't, so as a rule I give everything a try without holding onto silly prejudices. Maybe I'm not a fan now, but I will be ten years down the road. You won't find a single thing wrong about noticing things, learning about them, and remembering them. This sort of knowledge or experience also has an impact on personal fashion, so those rich it will inevitably come to possess good sense.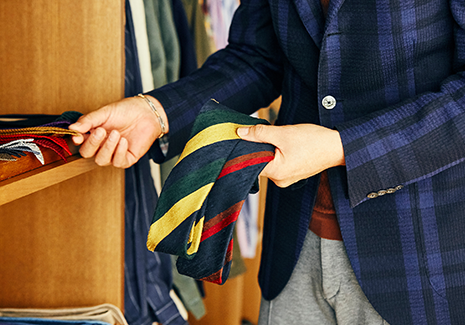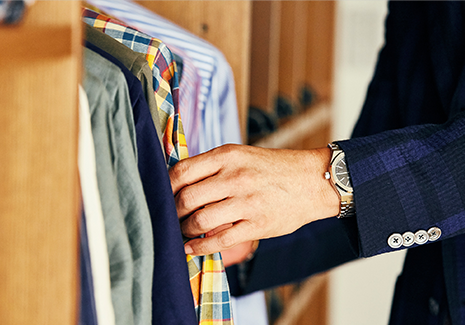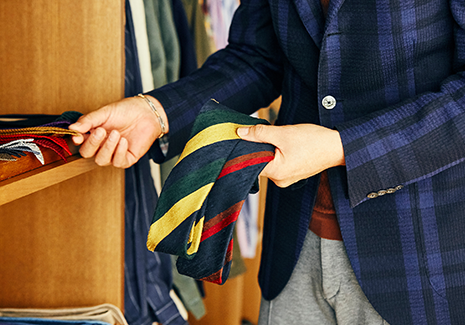 Added value for
the price is key.
━ What are your criteria when selecting products?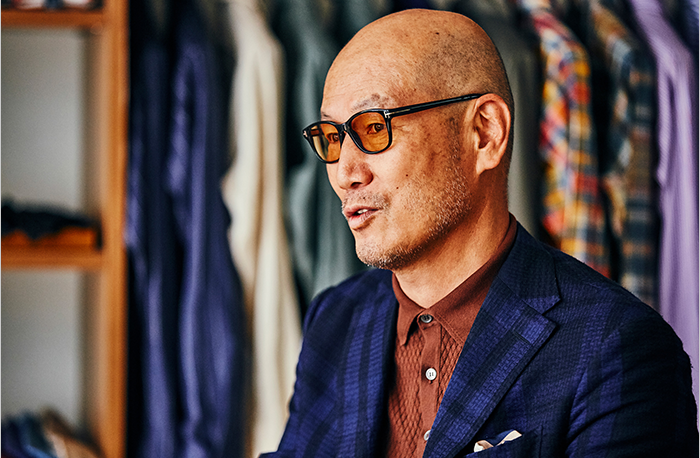 Items that don't have a balance of quality bother me. Like for instance an item that costs ¥10,000 yen despite only feeling like it's worth ¥5,000 seems expensive, while something that is priced at ¥100,000 but seems like it's worth much more will be a bargain in my eyes. Oftentimes the added value that carries over from the product in these situations will be the sentiments or passions of its maker. In general I believe that no item lasts for a lifetime. The object itself may exist for that long, but the wearer's style or tastes will change. But, items imbued with the spirit of an artisan will generate a sympathetic response with their values and ideas that makes them fun even if worn just for a single season. You may not use them much, but you'll want to keep them close at hand in case another opportunity to put them to use arises as times change.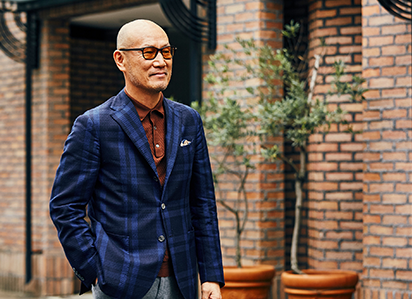 Fashion director / stylist
Hiroshi Morioka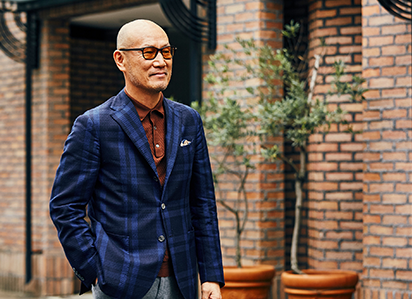 Born in Osaka Prefecture. Joined Hearst Fujingaho, Co., Ltd after graduating from Waseda University.
Became an editor at the magazine Men's Club after stints working in advertising and sales.
Struck out on his own as a stylist in 1996, founding Glove, Co., Ltd. Currently does everything from styling for celebrities, athletes, politicians, and businesspeople, as well as company uniform design, brand consulting, direction of advertising visuals and catalogue production, publishing, and lectures.
photo TRYOUT 
text K-suke Matsuda