No.004
Connoisseur sundries buyer has the fun of
"creating one's self" with British Style
Ms. Maki Hasegawa, DELFONICS retail product development manager/buyer
Avid fan of 3 Glenroyal items.
Each with its own personal story.
Ms. Hasegawa has seen and touched thousands of sundries in her buying career.
Throughout each stage of her 15-year history as a stationery and sundries buyer, Glenroyal has been quietly there. We asked her to speak about how Glenroyal lingers in her memories.
Days of repeated trial and error to find "the next new thing"
━How did you become interested in the work of a buyer?
I was born in Chiba, but when I was young I always wanted to live in Kyoto, and so I upped sticks and moved there. I knew no one and thought that since I was there, I ought to be around the things I like, so I knocked on the door of Smith Kyoto. At the time, our company still only had 2 or 3 direct retail outlets. I joined the staff as a part-time employee, then became full-time, and once I was appointed the store manager, I started to do the buying as well. Instead of offering products based on the top buyer's instructions, I listened to what our customers said and bought the things that were our favourites. Interacting with customers, I realized that I needed to know more about this and that, and so I did my own version of due diligence to gain more knowledge of the products. I was at the Kyoto store for three and a half years until I was invited to work in Tokyo.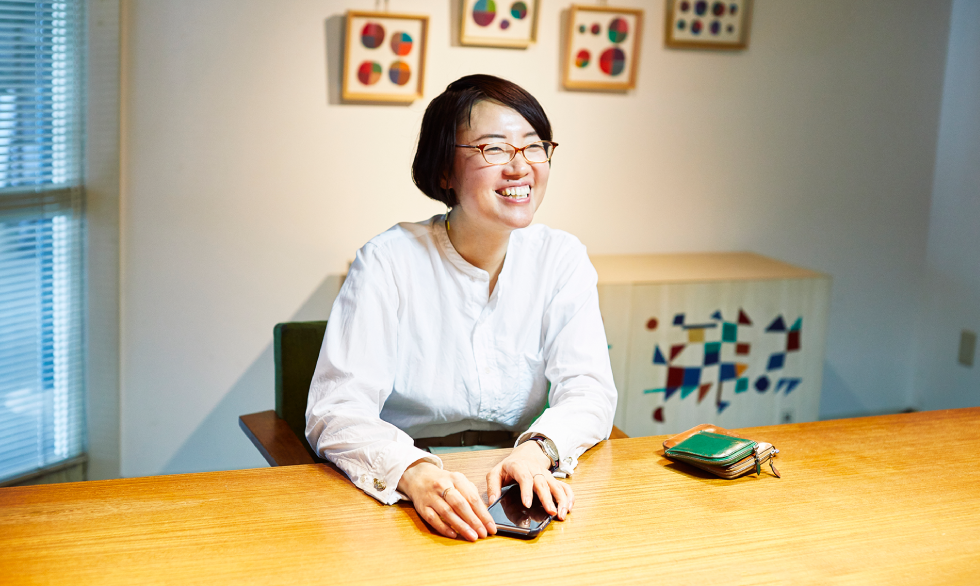 I was a buyer for about 15 years, and I have accumulated enough experience and product knowledge to see products from an even broader perspective than when I was doing the buying at the store. In fact, the stores themselves offer a variety of products, so that we, as well as customers, are always looking for that "next new thing." There is rarely such a thing as an entirely new product, but there are items that I think are interesting, goods that align with the times or are in harmony with the season, so if you approach a search with the aim of fulfilling these sort of conditions, you can gauge how interesting an item can be. In the past, there were only a few shops similar in type to our store, but in recent years the number of stores with similar business approaches has increased, and it seems like the same products are available everywhere. That's why we take great care in how we present the inside of our stores. Because you can make a product look new depending on how you place it.
Contact with the customer and making time for hobbies hones your senses.
━What do you make sure you do to sharpen your buying sense?
I am still often present in the store. I take care to interact with customers and to check on product trends on the shop floor instead of staring at the PC in the office. I really want to go once a week, but manage just 2 or 3 times a month.
Recently, I have been getting inspiration from flowers as well. I also like to watch movies, but the class in which I make displays is more interesting. No two plants are identical, and you work with different flowers depending on the season. For the same flower species, the size and bends differ for individuals, and even if you arrange them the same way, you get a different outcome when your work is complete. I arrange displays in my everyday work at the store, but it doesn't go as well for me with flowers. You are dealing with the combination of shapes and colours and even though I am familiar with products, but arranging something different has proven quite difficult and a lot of fun. It's a good opportunity to think back to the basics, and the elements you have to be aware of.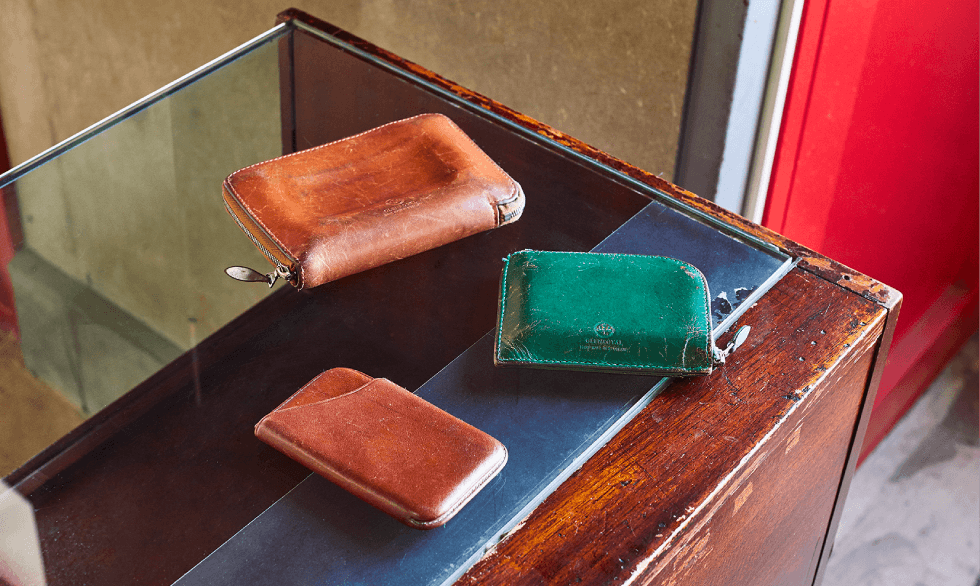 Ms. Hasegawa's masterpiece selection
━What is your favourite Glenroyal story?
The first purchase I made was this business card holder. When it first arrived in the store, I was impressed with its cool design, indeed it became a topic of conversation among staff at the time. It was love at first sight when I saw the body and cover of the business card holder were two separate pieces, rather than integrated as they usually are. The colour combination of the stitching and leather was not one that any Japanese manufacturer was doing. At that time, only store managers were allowed to have business cards, so I mustered up and purchased it to celebrate becoming a store manager. But more than whether it was easy-to-use or not, I was attracted by the style of taking your business cards out from it. I had so much fun thinking about how I would take my cards out; it's been 15 years now since I started using it.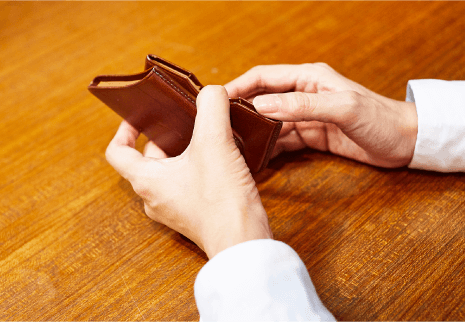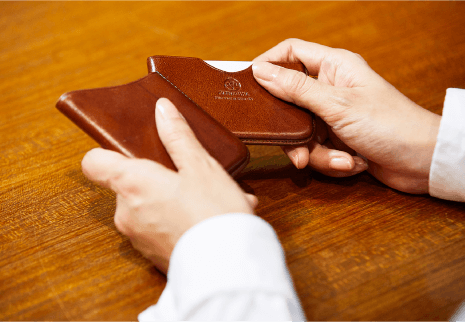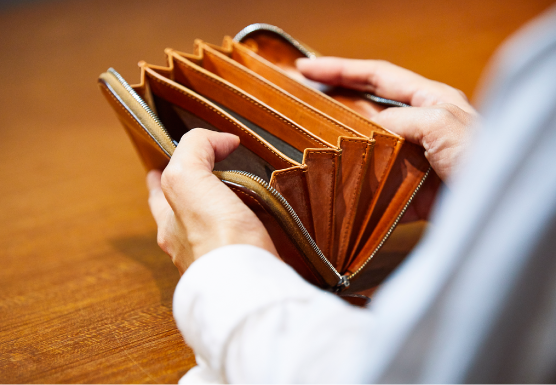 I followed that with the purchase of this wallet with the bellows inside. I previously used a bifold wallet, but I started to carry around a lot more things, so I then chose this one because it has better capacity. Initially, I thought the fastener that crosses in three ways was bothersome, but it slides smoothly and the accordion pockets also open very well. What I love is that you can put literally anything in it, from coins, bills, receipts and credit cards to point cards and still keep them conveniently divided.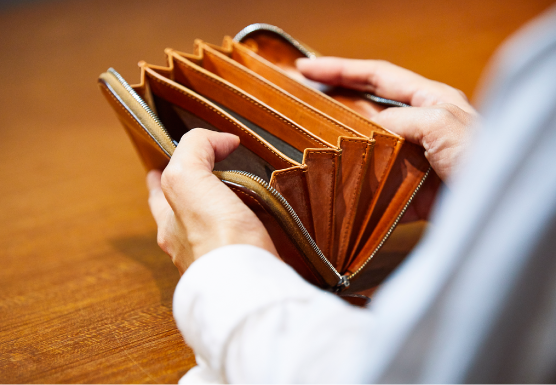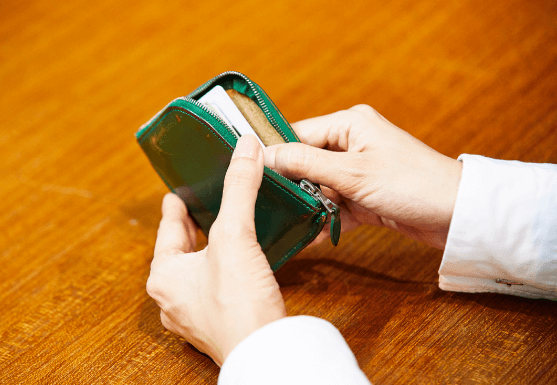 My next favourite is this green wallet. I special-ordered to have this tailor-made specifically for Delphonics. The shape of the original series of key cases was cute, so I had them strive to recreate the design in a wallet. The compact coin case is great when you are in the mood to use one. I also love the vivid green.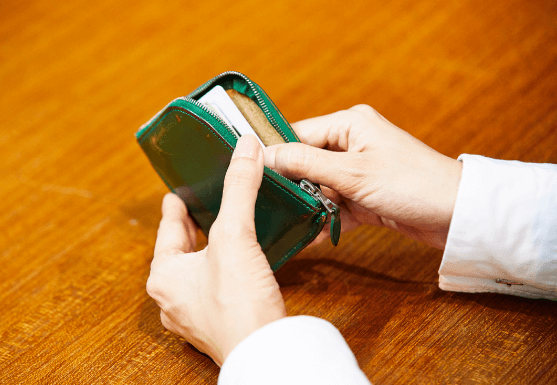 Sense of creating a shape unique to you
━What do you do to take care of your Glenroyal items?
Actually, I do nothing (she laughs). The original leather gets white powder, called blooms, on the surface and gains lustre as it is used. At first, the leather is hard, and you can't really fit much inside. But as you put coins and credit cards inside, the touch of the items put inside gradually create a shape suitable for the way that the owner uses it. Of course, it will look much nicer if you maintain it as you use it, but scratches add character as they get worn and I like that, too. I also appreciate how the leather stands up to the hard wear I put it through. Personally, I think you enjoy the changes in bright colours on leather accessories more than darker ones. Black makes it difficult to notice stains, but it's difficult to see the change in colour even when it develops a lustre. I would recommend that people look at the changes long use can bring to brown and also bright-coloured items because they're definitely worthwhile.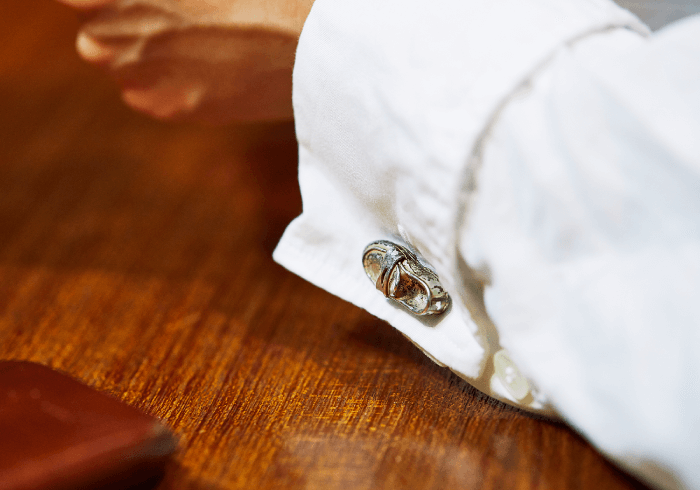 Use an item to discover its charm
━What is your favourite sundry item?
like fountain pens. The nib tip wears from contact with the paper and adapts to the writing style of the owner. One of my favourites is made by the Swiss manufacturer Caran d'Ache. I first heard about them while doing administrative work here, when a conversation turned to ballpoint pens and led eventually to my purchase of a fountain pen. It's been over 5 years now since I started using it. Switzerland's stationery items are actually rare. This brand started making coloured pencils, and used the hexagonal shape for the barrel of the ballpoint pen, and it's interesting that it doesn't make a knocking sound, either. I place very strong pressure on my writing instruments, so I tried a variety of fountain pens, but pens made with gold tips were so soft that I couldn't write with them. This fountain pen tip has just the right hardness of stainless steel that feels good when you write with it. The barrel is shorter than the normal fountain pen, but is the minimum length necessary for comfortable writing, so it has just the right balance between ease of storage and ease of use. The pattern on the side is interesting because it changes based on the viewing angle, and I also like the clicking sound when you close the lid. Likewise with Glenroyal, I am fascinated by actually touching and using it because I can always discover new and exciting things about it.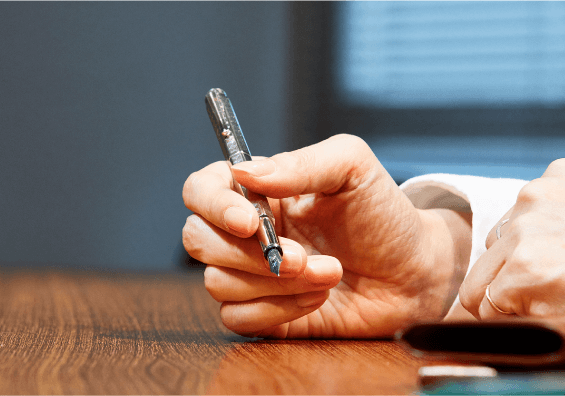 Double-shot of exceptional design with rustic sensibility
━How do women view Glenroyal?
The brand feels rustic but has a clean finish, slim fastener eyes and superior quality. It's not an overly masculine appearance, so I think women who like a touch of masculine in their things love this brand. Japan's leather accessories are also made to be useful, and having been born in Scotland, Glenroyal not only offers a rustic design, but one that is also useful. The items are not smugly made by craftsmen for the sake of the craft, but consider the user in their very design. A wallet is something we carry around every day, so if you buy one as a diversion, you'll throw it out and replace it often, but Glenroyal items are not something you will abandon, but rather keep for a long time. Another great thing about the brand is that even if you give an item a rest, at some point you will want to take it out and use it again.