DNA inherited from a necktie designer father
━You're now a creative director, does that mean that you always liked fashion?
My interest in menswear and its supportive background industries goes way back. It may have been influenced by my father who made neckties. On Saturdays when I was off school, I always held the necktie fabric samples as I went around with my father to visit his customers. I was always there when my father talked about how neckties were made, and saw how he did his business. Whenever I got into the passenger side of the car, it always smelled like the silk the ties were made from, and I can still smell that aroma today. These experiences led me to my current line of work.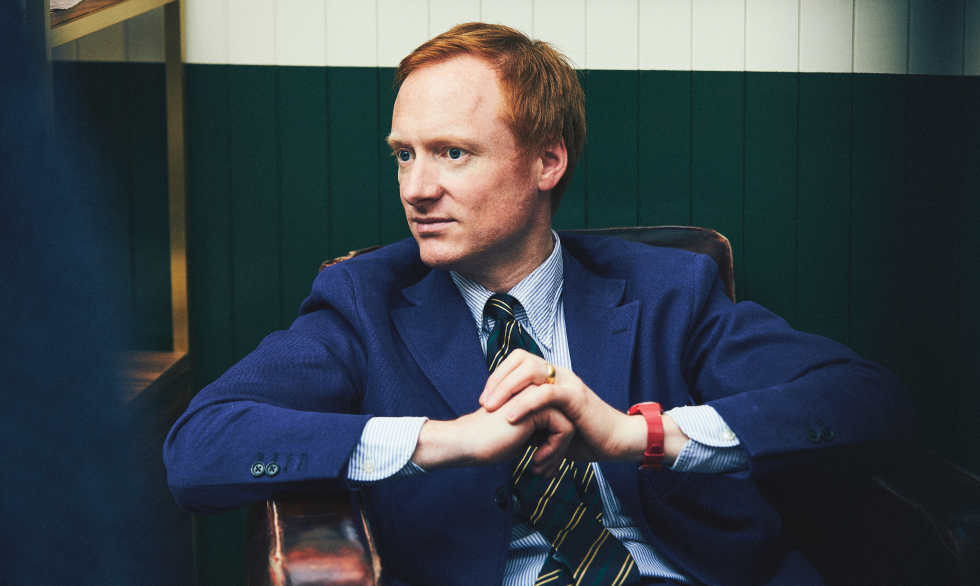 In my job, I make products for the seasonal collection, but I get a lot of inspiration from the 40 years of Drake's archives. On my days off, I make it a point to go in search of vintage clothing, which fortunately combines my work and my hobby. Sometimes I get new ideas from the materials and design of vintage neckties.
On the other hand, I am stimulated by new things as well. Among Japanese brands, I like Beams Plus, Blue Blue Japan and Boncoura denim. It's very unique for Japanese brands to mix authentic items with current trends so well, which interests me. When I come to Japan, these are the things I am looking for.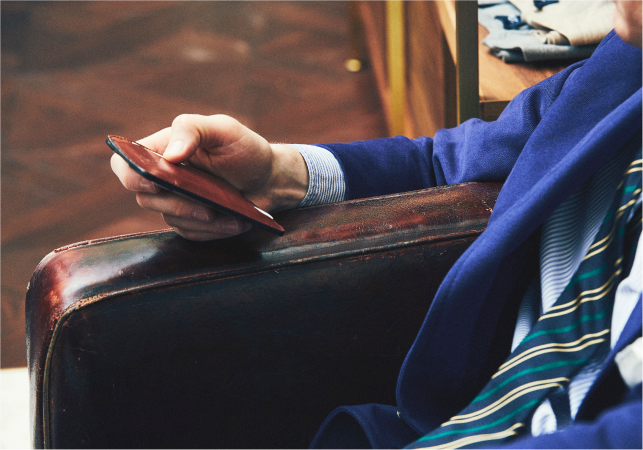 Owners decide how best to use an item
━How do you use the Glenroyal products you brought today?
This is a jotter, which is originally meant for use as a memo holder. It's certainly not a wallet, but I have been using it as a wallet for the last 6 years. I put business cards, collar keepers that you insert into a shirt collar, credit cards and bills. You know how Japanese business custom always requires the exchange of business cards. If I put them in here afterwards, I won't forget them, and what I really like about it is its size. It's 14 cm x 9 cm, which is just the right size to put in any inner pocket of a jacket.
The jotter is made from bridle leather. I really love the feel of it. Italian leather is soft, but bridle leather, which is England's representative leather, is quite firm. The firmness is the characteristic of British leather inherited straight through the generations from olden times, and is an important part of these products that stirs the British affection for them.
The colour I most often choose is brown. When I first start to use it, I might feel like it's a little stiff, but as I continue to break it in, the changes through the years also bring about better gradations, sheen and feel. In Japanese, the word "aging" is used to describe this process, but in England, the phenomenon is referred to as "wearing in." In other words, the phrase means that the product becomes well-used, and is used on an ongoing basis.
A lot of wallets have zippers, but I almost never use coins, and mainly use bills and credit cards. Since I don't have any use for coins, I wouldn't choose a wallet with a zipper. Since I found this jotter, it's been convenient to use and I wouldn't part with what is to me the perfect design.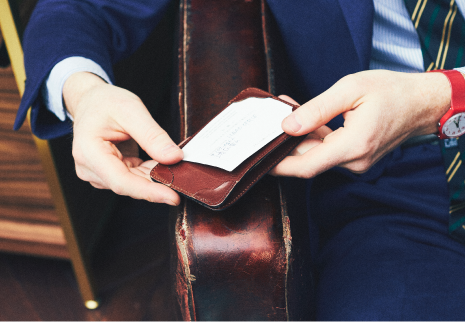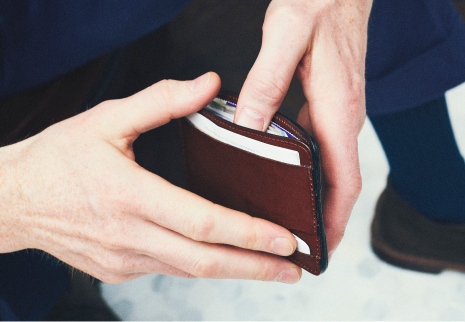 Items that improve with use
━Are there any other items that you love and have used for a long time?
I've been wearing my Chukka boots and loafers for about 10 years, and my casual shoes for over 10 years. The secret to getting long use from footwear is maintenance. I have my suits dry-cleaned once a year, and wash and iron my shirts myself.
English people are widely believed to take good care of items. Patching the elbows of jackets and knits when they wear out is something that most English do as a matter of course. My father always spent one hour every Sunday polishing his shoes. The reason for taking good care of things in this way is that British people believe that getting long use out of an item is a good thing. In addition to clothes and shoes, housing is another typical example, and homes rise in value the older they get. The house I live in now was built 300 years ago, which isn't very old. My parents' home was built about 600 years ago.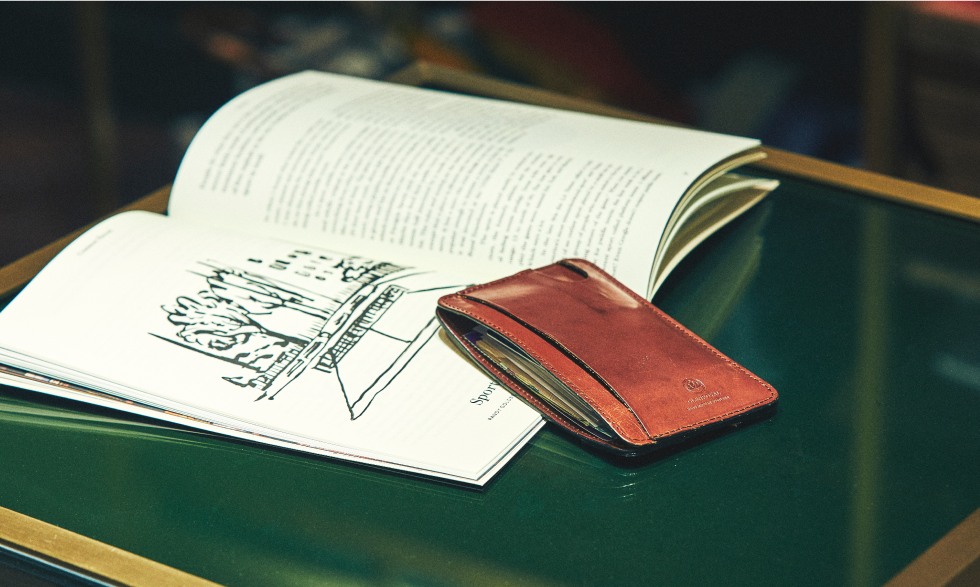 Themes common with Glenroyal
━Are Glenroyal and Drake's production processes similar?
I think the high quality of Drake's is the core of the brand. What both companies are carefully considering is not "how can we make this item even more cheaply," but rather "how can we make it even better?" The importance they place on classic pieces in particular, so they have the machinery needed for the old manufacturing methods and their own workshops with craftsman on their staff.
Having your own workshop creates an environment in which breakthroughs and new ideas can be born. If modifications need to be made, they can be done immediately, and you can then carry out market research in order to quickly make products to reflect market trends. It's a flexible environment that constantly evolves to satisfy the customer's requirements.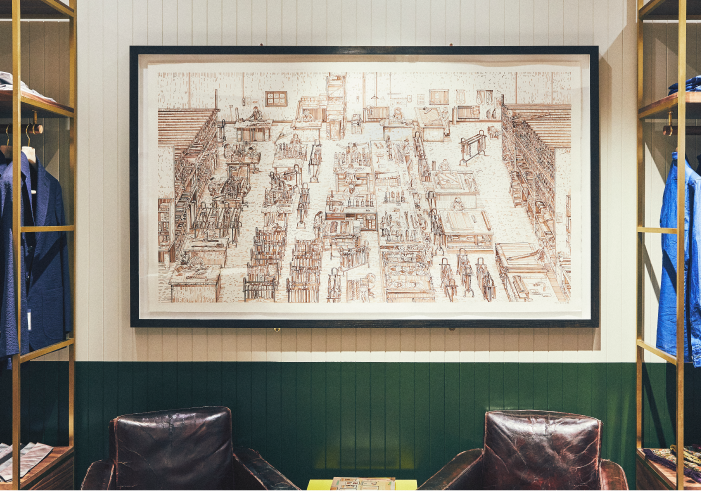 To maintain workshops, machinery and craftsmen is hard, but they are precisely at the heart of the Drake's brand. The district where the workshop is located flourished 300 years ago when it produced the silk fabric used to make ties and was an area where many tie-making craftsmen lived. Locating its workshop in a place with such a long history is one of Drake's strengths, and it may even be the secret of its pride and strength.
That's why we are not thinking about moving away from London. We incur higher costs to make products in London than making them in a workshop with lower staff costs, but we are investing in the people who work in an environment with a firmly seated production background into which we invest to increase its value. Because that's where we started, we intend to continue making ties that are handmade in London.
On the other hand, Glenroyal also insists on items being handmade in Scotland, where the company was founded in 1979. We were founded in 1977, and both companies have a story nearly 40 years old. I think we are extremely similar in that each of us use old techniques for making things, respect the craftsmen who work with us, and insist on "how we can make things better."
Backed by such a history, Glenroyal is a brand we respect and with whom we have a healthy and friendly rivalry at the same time.