liflattie ships,
glowing with foresight
━When you hear the name Asanuma, many of you will immediately see the "liflattie ships" used since the company started.
We started the brand 10 years ago when I was in my late thirties. At the time, even I liked clothing, it is different from trying too hard to be much fashionable. Nevertheless, it didn't mean that dressing too roughly or anything is okay. Even if I listened to the view of my friends, they said they want clothes that wearing with relax, being comfortable, and possible to easy care. All this is just common sense nowadays, but at the time, there weren't a lot of clothes that exactly fitted that kind of bill.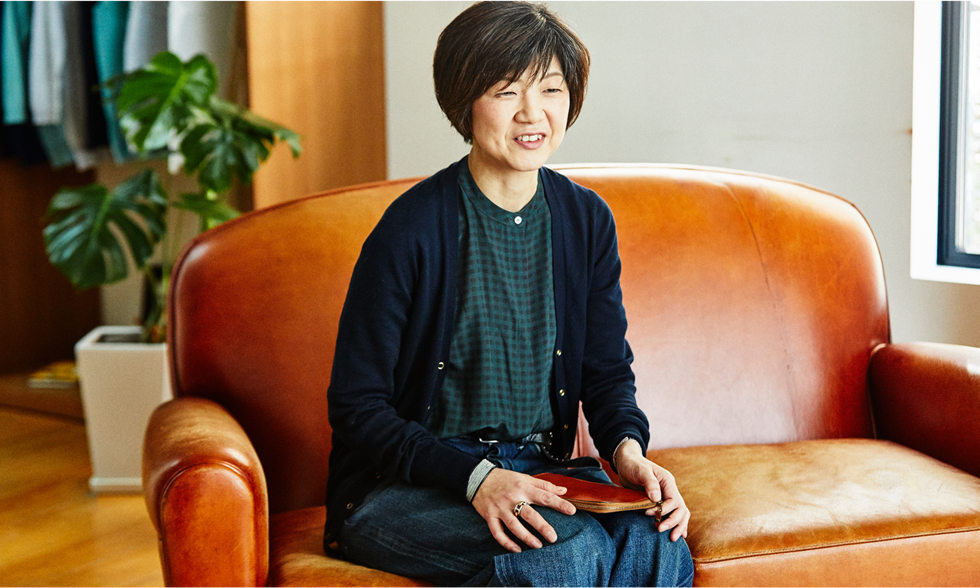 Since I had searched all over for these special clothes myself, I knew that women would like a store where you could find these kinds of clothes all in one place. When I was talking to women about this idea, the brand concept of a "lifestyle lived in flat shoes" was born. It's a style that goes with sneakers, Birkenstock-type sandals and other really comfortable shoes. Even when considering how a particular trend would fit in with the rest of our styling, we would not budge on this point.
Manufacturing centred on an idea moves people's hearts
━Do you have any buying policies?
I tend to favour brands with a manufacturing background. That is one thing that hasn't changed for me from the past until now. Through my work as a buyer I've had the opportunity to tour the Trickers, Alfred Sargent and Mackintosh factories in Northampton, England. Buying usually involves selecting finished items on display at an exhibition, but being able to actually visit the site where items are made was a wonderful experience for me. This is what is at the base of many of the clothes most infused with the designer's ideas that I tend to select.
At the store, I try to add a few of the items that I definitely want to sell; but even though I may over focus on those clothes, if my customers are not that interested, then I've put the cart before the horse. Conversely, even if I am confident that something really trendy will definitely sell, I sometimes don't offer it because it doesn't work well with the brand. In this way, I step back and try to think about things from many angles. Because sometimes the things I like just don't sell, she said, laughing.
Fashion is one part of daily life
━What kind of lifestyle do you usually keep?
I now work 3 days a week. On the four other days, I meet with friends and go to art galleries, museums and movies. On the two weekdays in particular, I carefully guard my time alone. Until my mid-thirties, I crammed in so many working hours that I essentially didn't have a life, so what I do now is probably in reaction to that. I even have entire days on which I do nothing at all. On rainy days, I sit around and stare into space. But even that is refreshing, and leads to a good balance that then lets me go back to my work renewed.
As much as I like simple clothes, I make sure that they are of a shape that allows a woman to look beautiful when she wears them. For example, a normal knit crewneck should also lie cleanly around the neck. I do yoga 2 or 3 times a week. I also love to eat, but I almost never eat out, and instead cook at home. The books I read are not about fashion, but are mostly about cooking. I have loved clothing since forever, and I believe that fashion is just one part of daily life.